Tuesdays with Melinda, Michele, Andy, Kathy and Joe
Monday July 1, 2013 | Filed under: Community, News About ASI, Using Ad Specialties
Here's the beauty of Internet radio shows like ASI Radio: it's interactive, it's mobile and, since there's no transmitter, anyone anywhere can listen in. Now, you can log on and listen in from the Far East as easily as you can from the East Coast.  Hopefully, no matter where you are Tuesday, you'll listen to our special 5-year anniversary show.
ASI Radio debuted in 2008 with the same five co-hosts still livening up the airwaves Tuesdays at 10:30 a.m. ET. Since then, they've done an incredible 275 shows. In an era when the same old, same old is repackaged and sold as new, ASI Radio consistently delivers original business insight, breaking news and the most authoritative research and resources available – along with a fun, weekly dose of awesome.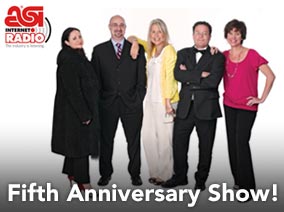 Tuesday, July 2, we're celebrating with cake, champagne and a trivia contest, so be sure to join us – and to compete to win prizes for correct answers. Call in at (215) 953-4979 or email us at radio@asicentral.com.
I'll be a special guest, offering up congratulations along with a sneak peek at Counselor magazine's  upcoming "State of the Industry" report and some info on ASI®'s next Global Advertising Specialties Impressions Study.
Every week, ASI Radio offers something for everyone along with the latest sales and marketing trends and tips. Each show also features an industry news recap by Counselor® Editor Andy Cohen, a product safety minute and a list of each host's favorite promo product, also available online, complete with images and descriptions.
Above all, ASI Radio is a true reflection of this industry's sometimes zany, always creative personality. The five hosts know more about this business than just about anyone (except me!). Joe Haley, the host of "The Joe Show," covers new products; Advantages® Editor Kathy Huston tackles distributor sales; Cohen provides business analysis, SGR™ Editor Michele Bell reports on the supplier side while ringleader and Editor-in-Chief Melinda Ligos keeps the show moving and the topics flying.
But collective knowledge aside, they're also true entertainers. Log on for the laughs; log off armed with plenty of news you can use.
And where else in the industry can you get business insight from the likes of economist Steve Forbes and Twitter co-founder Biz Stone, who were both interviewed on the show prior to appearing as ASI Show® keynote speakers? Short answer: nowhere. ASI Radio is the first and still the only industry radio show around.
If you miss Tuesday's live show, don't worry. You can check archives of previous shows and featured interviews anytime at www.asicentral.com/radio. And, you get credit toward your ASI BASI or MASI certification for listening to the recording of each show later on, when you listen to it as a class in the Online Learning Center.
But try and join the gang on Tuesdays – because you never know what Joe, Andy, Melinda, Michele and Kathy will say!