SOI: Cautiously Optimistic
Monday August 5, 2013 | Filed under: Member Benefits, News About ASI, Research, Using Ad Specialties
Remember the dark days of the Great Recession? We were mired in a subprime mortgage crisis, losing millions of jobs and experiencing 10% unemployment. Nearly every industry took a hit, including ours. Distributor sales dropped to $16 billion in 2009, down from a record high of $19.8 billion the year before.
Today, our industry has almost fully rebounded, with total 2013 distributor sales expected to reach new heights, according to the latest "State of the Industry" report from Counselor magazine. Counting Q2, in which sales rose to $4.9 billion, we've now enjoyed 14 straight quarters of growth.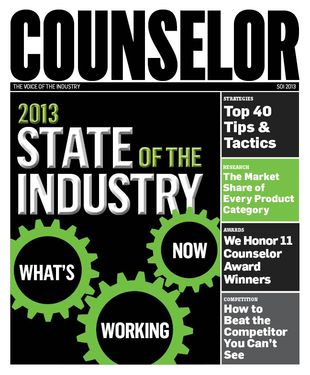 Of course, anything can happen between now and the end of the year. Regime changes, shifts in consumer confidence and even natural disasters could impact profits and sales. And I know we're all holding our breath to see how the ongoing implementation of the new federal health care law affects our bottom line.
But for now, I'm happy to spread a little good news for a change.
It's time to capitalize on the gains, increase sales, spend a little more on marketing – and get the word out about the ROI and high rate of advertiser recall of promotional products. With the U.S. economy still struggling to gain a firm foothold, a lot of companies, schools and non-profits continue to count every penny, which makes our message all the more compelling.
ASI makes it easy for you to go on your next sales call armed for bear, with tons of useful stats about the health of our industry and viability of our products. If you haven't already, read Counselor's SOI issue cover to cover and cherry pick the stats and info most useful to your business. And be sure to read the growth strategies that are working wonders for industry leaders – and put them to work for you.
Along with tons of sales-generating ideas, this year's report analyzes 2012 sales to determine the biggest markets and most popular products. This year, health and education kept their grip on the number one and two markets, while manufacturing and construction both rose, providing new opportunities.
Other highlights from the 2013 Counselor "State of the Industry" issue include:
Top 3 Products: Shirts, bags and writing instruments, per percentage of total 2012 industry revenue. T-shirts alone represent $2.7 billion of the $19.4 billion in total distributor revenues.
Bags Down: For the third year, bags declined in their share of sales, down to 8.7% of the market.
Vote for Profits: 2012's elections helped increase sales of buttons, badges and bumper stickers by 48% over 2011.
Green is (Not So) Good: While nearly three-quarters (72.6%) of all distributors indicated sales of eco-friendly items were the same as in 2011, 7.2% more reported a decline than an increase.
Electronics Up: As a group, USB drives and other electronic/tech products now represent about 10% of the overall market.
Toys and Games Drop: Questions over safety issues have helped drive sales of toys and games down 65% since 2009.
The SOI report, which comes out in print and online, is considered the most important and influential in the industry, for good reason. It's a definitive analysis of this industry's most recent past as well as a roadmap to the future. So do yourself and your business a favor and check it out.

And keep an eye out this fall for ASI's next Global Advertising Specialties Impressions Study. We've got researchers in the field now – surveying end-buyers from Atlanta to Australia – to give you even more powerful data proving ad specialties are a high-impact, cost-effective ad medium.

In the meantime, you can visit ASI's customizable End-Buyer Website for even more surefire methods of selling the ROI of promo products to prospects and buyers.

If you've used any of ASI's resources to boost sales at your company, please let me know by posting a comment or e-mailing me here. I'm also on Twitter, LinkedIn and YouTube.