"The Woz" Wows Orlando Show
Wednesday January 7, 2015 | Filed under: ASI Shows, Community
Here's another great example of the strange new times we live in: I'm walking with Apple co-founder and ASI keynoter Steve Wozniak soon after he blew away 1,000 people at our Orlando show, when we pass a table of five convention center employees – all buried in their phones. They never once looked up from their devices, missing a once-in-a-lifetime chance to meet face-to-face with the man who invented the industry that made those cell phones possible. Incredible!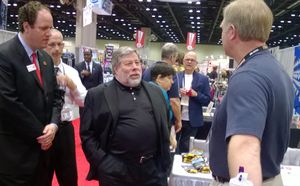 I loved Wozniak, an engineer who single-handedly kick-started the personal computer industry in the 1970s by inventing the Apple I and II computers. He's the only person I've ever met who speaks not in complete sentences or even complete paragraphs – but in book chapters. To actually sit on stage with the inventor of an entire industry and ask him questions was unbelievable.
And I'm happy to report he couldn't have been nicer or more gracious, posing for photos with everyone who crossed his path (if they bothered to look up from their phones, that is). He even gave out his email and signed show badges, books – and dozens of iPhones and iPad, including mine (pictured, in the #ASIPromocar).  He made a thousand new friends on Tuesday, the closing day of ASI Show®, which started Sunday at the Orange County Convention Center.
He was energetic, likeable and low key, riveting everyone with insider stories about founding Apple with Steve Jobs in 1976. "I never wanted any fanfare," said this lifelong engineer, who's always preferred inventing to marketing. "The builders are the important people in my mind."
I especially enjoyed it when he said he loved promotional products, recalling a branded insulated travel mug one of his companies gave to employees that miraculously kept beverages hot for two days. As he told us: "It's a great way to get the word out."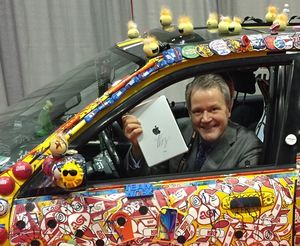 After the Q&A, Wozniak also toured the show floor (pictured, center of top pic, with ASI vice-chairman Matthew Cohn, at left), surprising attendees and happily posing for photos and gathering so many samples we had to get a bag to carry them in. Kristen Beck, of Alligator Events in Sebastian, FL, made a point of thanking Wozniak, a former teacher, for his inspiring words about the importance of education. "He was awesome," she said. "It surpassed my expectations."
What a guy. What a show! For more, click here for an interview with Counselor magazine editor Andy Cohen.
Wozniak was just one of many highlights of ASI Orlando, which kicked off the 2015 selling season with 745 exhibitors and 6,084 attendees from 49 states and 22 countries, with distributor attendance up 8% over 2014. All told, a record 27 companies chose Orlando to host their sales meetings, an increase of 35% from the previous show.
The show more than delivered quality attendance and top-performing salespeople, exceeding all of our expectations. And, there were a ton of new features, making the experience wholly unique.  In addition to the "Marketplace!" showcasing featured products from five of the most popular money-making industries, and the Social Lounge, with huge comfy recliners so people could settle in to watch a live feed of show photos tagged with #ASIOrlando, we hosted a "Minute to Win It" game show. People went crazy competing for prizes by playing outrageously fun games onstage.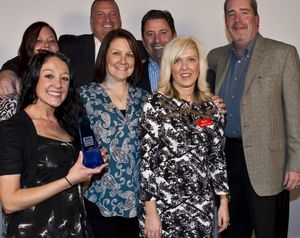 Distributors and suppliers also came together at new Networking Clubs, where they ate together, downed martinis, did yoga and even wakeboarded.
To add to the fun, we also brought the #ASIPromocar to the show, putting it on display for people to take photos and sign the inside. No one could believe we'd driven a car covered in hundreds of promotional products over 2,000 miles so far – without losing more than a few pens. For proof of the resiliency of our industry, look no further than our "moving billboard."
Monday night, ASI's Counselor® magazine also announced the winners of its 2015 Distributor Choice Awards. I was very pleased to announce Ariel Premium Supply (asi/36730) as our Supplier of the Year. As I told the crowd, Ariel enjoys a 0.4% internal error rate – which means this $30 million company is near perfect when it comes to pricing, sourcing, personalizing, decorating, packing and shipping. No wonder they won the top prize. The enthusiastic group that accepted for Ariel is at right.
For complete coverage of the show,  visit www.asicentral.com.
And don't forget to register now for our upcoming 2015 ASI Shows: Dallas (February 3-5), Long Beach (March 24-26), New York (May 5-6) and Chicago (July 14-16).
Onward to Texas!