Supplier Sales Rise Again
Wednesday September 3, 2014 | Filed under: Members, News About ASI
For the 18th consecutive quarter, suppliers in the $20.5 billion promotional products industry are reporting bigger sales, with revenues jumping an average of 5.1% in Q2.
Data shows more than half of suppliers (59%) improved Q2 sales, with 23% reporting revenues were unchanged and 18% with declining sales. At the same time, the U.S. is reporting a healthier job market, a recent surge in stocks and buoyed consumer confidence.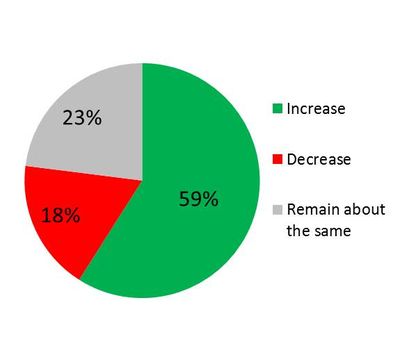 Such confidence is also being felt by six in 10 industry suppliers, who tell ASI they expect 2014 sales to be even better than 2013. More than three-quarters (78%) of supplier firms with $5 million or more in annual sales believe their revenues will improve in 2014. About 58% of smaller suppliers (less than $5 million in annual sales) anticipate their sales will increase this year.
Suppliers quoted in the latest Counselor PromoGram sound cautiously bullish:
"The economy was stable enough to drive a bit of consumer confidence and the technology category really took off," said Bill Korowitz, CEO of Top 40 supplier The Magnet Group (asi/68507). "Suppliers also seemed to have built more inventory in advance of Q2 sales this year than in previous years."
"We are seeing a resurgence in larger, corporate orders," said Norm Hullinger, CEO of Top 40 supplier alphabroder (asi/34063). "Our customers tell us that their corporate clients are seeing growth in their businesses and ramping up spending accordingly."
"We are bullish for sales growth, but very focused on offering more and more services like our expanded digital proofing programs, as well as same-day rush production," said Jeff Lederer, president of Top 40 supplier Prime Line (asi/79530). "Certainly the health of the industry helps to fuel Prime's overall growth, too, especially technology items."
Dan Taylor, president of BamBams (asi/38228), also expects sales gains this year, with the caveat that negative world events always can make an impact. "We expect to be up 4%-5% this year and unless the world melts down because of the turmoils caused by ISIS, we would expect the industry to continue solid gains," he said.
The 5.1% quarterly growth among suppliers was a stronger showing than in Q1, when average sales increased by 4.8%. Last month, Counselor reported Q2 distributor sales rose by 6.1%.