Style and Substance in California
Friday March 28, 2014 | Filed under: ASI Shows, Community, Members, News About ASI
The ASI show in Long Beach, California was as provocative as it was successful. Artist Erik Wahl – one of the most unusual keynoters we've ever had – gave a presentation described by more than one person as "awesome."
Linda Panksy, from PIP Printing (asi/398508) told us Wahl, a best-belling author who uses art as a means of communicating business advice, actually inspired her to think differently: "He made me realize that I need to get out of the box."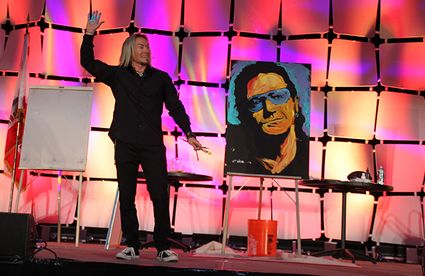 According to Wahl, "You have to find ways to differentiate yourself from the competition, and creativity can do that. The companies that are successful right now are the ones that create unique experiences for their customers."
If you missed the keynote, check out an interview Counselor Editor Andy Cohen conducted afterward with Wahl, on ways ad specialty companies can become more creative and innovative. Click here to watch.
The two-day California show was attended by more than 1,800 distributors, including sales stars from Million-Dollar Roundtable companies such as Geiger, Brown & Bigelow, Jack Nadel and iPROMOTEu. The show floor attracted 280 exhibitors, including 93 new to Long Beach.
The best part for me were the reviews from attendees like Paul Herzbrum, from BND Corporation (asi/129474), who said: "We're leaving with many new initiatives that will help us build our business, and that's what attending a trade show is all about."
Katharina Pieper of BamBams (asi/38228) told us she most enjoyed the quality of attendees. "We've been able to talk in detail with distributors and are being asked for quotes and are getting valuable leads. We are already committed to all The ASI Shows next year, and we will be in New York next week."
What I liked best about our week in California was all we accomplished, starting with the unique combination of our invitation-only fASIlitate event with an ASI show. Everyone I spoke to who attended both events found the experience worthwhile. Tonia Allen Gould, from TagSource, described fASIlitate as "Absolutely fabulous. It's a great use of time. I'm sitting down with vendors one-on-one and it's a very rewarding experience. I would definitely recommend it."
I hope you've been able to catch another new initiative: the live, on-stage version of our ever-popular "Joe Show," featuring dozens of cool, new products from leading suppliers. Host Joe Haley is earning high praise for the live format. One distributor even told us it was his favorite part of the show.
Seems like we're barely taking a breath before heading to ASI New York, taking place next Wednesday and Thursday at the Javits Center. After that, it's on to the ASI show in Chicago July 15-17. (To learn more about exhibiting or sponsorship opportunities for 2014, contact sales VP Karen DiTomasso at kditomasso@asicentral.com).
For photos and more coverage of ASI Long Beach, be sure to visit www.asicentral.com and the ASI Show Facebook page.