New Year, Big Show
Monday January 6, 2014 | Filed under: ASI Shows, Community, News About ASI
We're kicking off the New Year with a great big three-day show in Orlando, the first of the 2014 show season. In addition to thousands of the hottest products in the industry, we're showcasing creativity, entrepreneurship and good old-fashioned competitiveness during a very special keynote presentation on Tuesday by the stars of the ABC hit reality TV show, Shark Tank.
The show, taking place at the massive Orange County Convention Center, got off to a great start Sunday, with a full day of classes offering something for everyone – whether you're already a million-dollar superstar or an industry newbie. And classes continue both Monday and Tuesday, so it's not too late to attend one.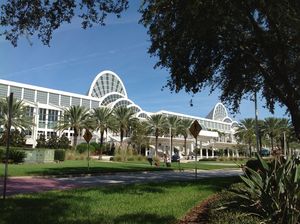 This show features a ton of "firsts." Monday morning, ASI's products expert Joe Haley hosted a live Joe Show on stage with suppliers showing of their coolest items. Monday night, we celebrate suppliers during the annual Counselor Distributor Choice Awards. I love these awards because distributors across North America choose which companies we'll honor by voting for their most-valued ad specialty suppliers. Winners are selected based on real votes and data from ASI's Supplier Performance Ratings.
Another first – the ASI CTO Summit, hosted by our Chief Technology Officer Armughan Rafat. We decided to bring together tech leaders from some of the largest distributors and suppliers in the industry to discuss ways a technology culture can influence an organization's bottom line. I'm sure we'll enjoy heady discussions of a front-burner topic of keen interest to us all.
In another first, we're hosting a pitch slam called "Swimming with the Sharks" on Tuesday – with four top suppliers competing for $5,000 to help them launch a cool, new product. The judges are none other than self-made tycoons Barbara Corcoran and Kevin O'Leary, who know just what it takes to run with a million-dollar idea. This presentation should be a lot of fun – and it's free, so be sure to come and cheer on your favorite supplier.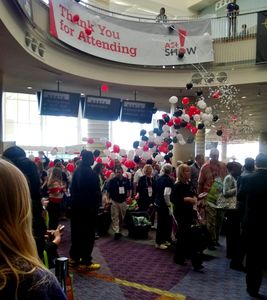 Before the presentation ASI Chairman of the Board Norman Cohn and Matthew Cohn, the founder of The ASI Show, join me on stage to "pin" the latest recipients of certifications from ASI's education program. I'm proud to say ASI recently hit a major milestone – awarding over 1,000 industry certifications through our free Online Learning Center since November 2010 alone.
This year's gala celebration takes place at Disney's Animal Kingdom, complete with rides, a DJ, dance party and plenty of food and drink. It's the perfect opportunity to meet new people, have fun with old friends and relax a little in the midst of a very busy show.
I'm also happy ASI Orlando has attracted 20 distributor sales meetings, including American Solutions for Business, which brought 300 of their top sales reps. It's always a pleasure to attend their events and to say hello to their CEO, Larry Zavadil, who's celebrating both a birthday and the arrival of a new grand-daughter. Congrats, Larry!
If you see me at the show (I'm the one walking the fastest, though it's hard to beat the guys on those segways zipping around), please say hello. As always, I'm interested in what you think of the show, so feel free to post a comment or e-mail me here. I'm also on Twitter, LinkedIn and YouTube.
And be sure to check out our website for complete coverage of the show, including blogs and videos, at www.asicentral.com. And if you haven't already, register for our upcoming shows in Dallas, Long Beach, New York City and Chicago.