Doing Business Better
Thursday May 2, 2013 | Filed under: News About ASI
If you've ever struggled to understand the nuances of your cable or phone bill, I can sympathize.  Which is why I'm happy to announce ASI has streamlined our billing and invoicing materials to make it easier for you to do business with us.
Starting this week, you'll see new invoices and statements based on formats that are easy to understand and to reconcile to your own accounts payable systems.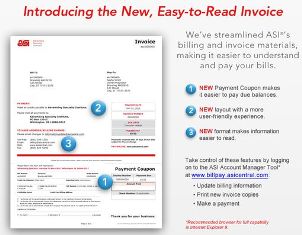 We updated our system because, frankly, we got complaints from members about being held hostage to the old pen-and-paper era. Now, you can pay online and avoid writing that check or licking that stamp.
And, if you save your credit card as the card of record, customer service will check if you want to update an existing card already set on autopay or if you want to establish autopay.
As part of the process, we conducted focus groups to learn exactly what you wanted. During one session, a member told us, "ASI has thought of everything with the redesign." That's our goal.
Highlights of the new invoices and statements include:
New payment coupon
New layout for a more user-friendly experience
New format to make information easier to read
Members can log on to the Account Manager Tool at www.billpay.asicentral.com to:
Update billing info and all company info, like names, emails, phone numbers, addresses
Print new invoice copies
Make a payment
Once you've had a chance to review the new system, please let me know what you think by posting a comment or e-mailing me here. Hopefully, doing business with us will be easier than with your phone or cable company! I'm also on Twitter, LinkedIn and YouTube.