Congrats to a Winning Editorial Team
Friday March 15, 2013 | Filed under: Community, News About ASI, Research
ASI had good reason to cheer this week when Counselor® magazine was honored with its fourth Jesse H. Neal National Business Journalism Award for its 2012 "State of the Industry" issue.
This award is a really big deal. Considered "the Pulitzer Prize of business media," the Neal Awards recognize the best in business-to-business editorial achievement and are B-to-B's most prestigious and sought-after editorial honors. The judging panel, chaired by Diana Henriques of The New York Times, selected a mere 46 Neal Award winners out of 138 finalists from an original 640 entries.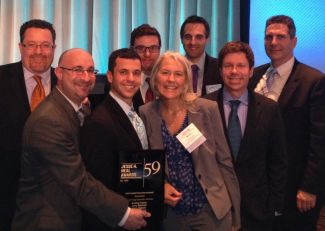 Winning entries were selected for exhibiting journalistic enterprise, service to the field and editorial craftsmanship. As you know, Counselor's annual State of the Industry issue is packed with statistics, largely compiled and analyzed by our executive research director Larry Basinait. Editor Andy Cohen steers this massive ship from concept to press, which requires the hard work of every Counselor staffer.
It was previously announced that ASI's Wearables®, Stitches® and Counselor magazines were named finalists for five Neal awards. ASI magazines were recognized among several legacy publications, including Broadcasting and Cable, Architectural Record and The American Lawyer.
Tuesday, a big group of us went to New York City for the awards announcement. In the photo above, editorial staffers Joe Haley, Andy Cohen, C.J. Mittica, Christopher Ruvo, Dave Vagnoni and Larry Basinait celebrate with Melinda Ligos and Rich Fairfield.
When the big moment came and they announced Counselor as a winner, we cheered so loud we couldn't even hear what the judge's had to say about our entry. Later, we learned one judge said of Counselor's SOI package: "The value of the story lies in the data-based reporting." Judges also praised the story for being comprehensive and well-paced.
In less than 10 years, ASI magazines have been honored with nearly 100 journalism awards and remain the only industry publications to ever win the prestigious Neal Award. What that means is our entire editorial department is world-class – and I couldn't be more proud.
For members, it means consistently providing top-notch education and educational resources to improve your business and further the professionalism of this entire industry.
Below are the details on our award winner and finalists. If you haven't already, these stories are well worth the read. The SOI issue in particular contains a ton of practical advice and business strategies you can turn to all year long.
Neal Award winner is:
Counselor®: for Best Subject-Related Package, "State of the Industry" issue, trend stories, how-to tips and profiles written by numerous staffers and edited by Andy Cohen.
Neal Award finalists are: