ASI Delivers Biggest, Best Industry Event of Summer
Thursday July 18, 2013 | Filed under: ASI Shows, Members, News About ASI
ASI® ended its 2013 ASI Show® season with a great show in a wonderful town, attracting more than 4,200 distributors from firms in 47 states and 12 countries. Over three days at McCormick Place, our Chicago show – the largest ad specialty show of the summer – really delivered.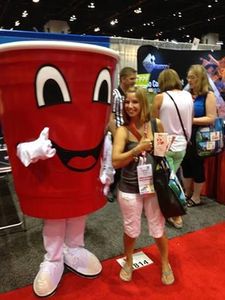 To me, the Chicago show is more than a trade show – it's an opportunity. Whether you came for the 78 education sessions, the black-tie Counselor®Awards or the non-stop networking, the best the industry offers is right at your fingertips.
Plus, you get to work hard and play hard in one of my favorite cities. To a Midwestern boy like me, Chicago is the center of the universe, filled with terrific museums, stunning architecture, the best deep-dish pizza on earth and some of the nicest people you'll ever meet. No wonder a record 17 distributor companies, including Allegra Network (asi/372000), EmbroidMe (asi/384000), iPROMOTEu (asi/232119), WorkflowOne (asi/333647) and HALO Branded Solutions (asi/356000) chose the Windy City to hold major sales meetings.
I'm not alone in my praise. Here's what attendees had to say about the show:
"ASI Chicago has so much to offer," said Brian Hiner, of HALO Branded Solutions (asi/356000). "It's so important to get out on the show floor and meet face-to-face with suppliers. As many shows as there are – I believe ASI Chicago is the one that makes the difference. It's one of the industry's best events."
Troy Lewis, of J.H. Specialty (asi/232445), said he enjoyed the diverse array of exhibitors along with the hot products. "There are so many items debuting here," he said. "I'm leaving with many new items to show my clients. I absolutely recommend attending ASI Chicago. Nothing compares to seeing products up close and personal."
The show was also deemed worthy enough to attract the attention of the prestigious Chicago Tribune newspaper, which ran a story in its business section, along with nine online photos and interviews with a slew of companies, including Vernon Hills, PromoPet, St. Regis Crystal, Helping Hand, American Greenwood, Dunbar Foods and Lion Circle.
Exhibitors (including 83 new to Chicago this year) were just as pleased. Scott Anderson from Leed's (asi/66887) told us his booth was busy from the get-go, thanks to a great mix of quality distributors. And despite the heat wave, there's no better time than July or place than the three-day Chicago show to kick off the second half of the year and to prepare for the all-important fourth-quarter selling season.
And if you weren't inspired by the networking and the deal-making, you had to be motivated by Thursday's keynote by Christopher Gardner, the inspiration for the Will Smith movie "The Pursuit of Happyness" (pictured here with ASI's chairman, Norman Cohn, in a borrowed ASI Show hat).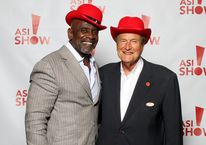 "Don't ever let anyone tell you you can't do something," Gardner told our audience about the time he lived on the streets with his 18-month-old son before his smarts and his moxie helped him break into the financial industry and become a self-made millionaire. "You want something – go get it. Period."
Here are some other gems he shared with us:
"The greatest honor you'll ever have in your life is someone you love knowing you're going to be there when they need you."
"When you get your toys, you got no time. You can make money, but you can't make time. How much time do you have in your life? Not enough."
"What you do does not define who you are."
"Sometimes you gotta do what you gotta do before you can do what you want to do."
Gardner's is an unbelievable story, but if he doesn't make you believe you can do anything as long as you set your mind to it, I don't know who can. But you need to get a plan, stick to the plan and, above all, be passionate.
If you missed this year's show, don't worry. We're coming back next year – and registration is now open for the 2014 ASI Shows (Orlando, Jan. 5-7; Dallas, Feb. 4-6; Long Beach, March 25-27; New York, April 3-4; and Chicago next July) at www.asishow.com. Special 2014 presentations include keynotes by former President George W. Bush and the stars of the hit ABC reality show, "Shark Tank."
For complete coverage of ASI Show Chicago, visit www.asicentral.com for a wealth of information, including blogs and videos from ASI's on-site editorial team.