A Mountain of Information and Inspiration
Thursday September 19, 2013 | Filed under: Community, Industry Initiatives, Members, News About ASI, Research, Using Ad Specialties
This year's ASI Power Summit in Park City, Utah, had it all: Breaking news, early morning inspiration, late-night camaraderie, tons of expert advice, incredible views and great golf and mountain biking.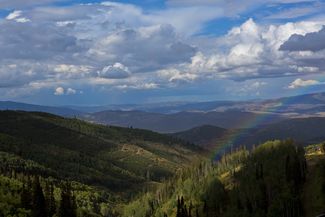 Memorable moments included losing power within a 50-mile radius of the resort during the very last panel with members of the 2013 Counselor Power 50. Undeterred, we powered on, first using the light from moderator Matthew Cohn's iPad to light up the speakers on stage and eventually by relying on several other iPad lights along with lanterns from the hotel. Not a single person left the room and every question got answered. I think there's an Apple commercial in this!
Here are a few of my other personal highlights:
My on-stage interview with Michael Bernstein, CEO and chairman of the board for mega-supplier Polyconcept and No. 3 on the 2013 Power 50 list. I grilled Michael, one of the most powerful people in the industry, about his North American business, expansion into decorated apparel, significant decline in the European business and restructuring of the Asian sourcing business, along with his plans – still in the infancy stage – to become a supplier in Asia to local consumers of promotional products. You should also check out Michele Bell's interview with Michael.
The annual Power 50 dinner and release of ASI's latest groundbreaking global research, proving promotional products deliver commanding advertiser recall among an average of 82% of recipients in every international city surveyed. Check out our online page to download – and share! – PDFs packed with stats on major product categories, along with the study itself. Share the link (www.asicentral.com/study) across all your social media sites.
Awesome social media insight from master videographer Devin Graham, whose YouTube videos now boast a combined 200 billion views – yes, that's billions with a "b." As ASI's Dave Vagnoni (@VagnoniASI ) tweeted from the summit: "Seriously, hire @devinsupertramp before you can't afford him." Devin, along with ASI creative guru Jake Krolick (pictured on stage), implored the industry audience to inject excitement into everything they do and to experiment with extreme ideas and videos that will capture the attention of the next generation of promo sellers and buyers.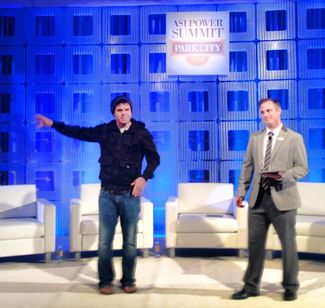 For more advice and tips, check out ASI's video interviews with:
Lion Circle's (asi/67620) Rich Carollo, who's been leading the charge for competitively priced Made-in-the-U.S.A. products.
Tommy Lewis of Bob Lilly Professional Promotions (asi/254138), winner of the Power Summit's annual "Marketing Smackdown."
Keynote speaker Adrian Gostick, New York Times bestselling author of The Carrot Principle and an expert on motivating employees.
And don't forget to check out ASI's Facebook page, for pics by Jake (@Phillyspread).
The whole point of smaller, more intimate get-togethers like the Power Summit is for people to learn from each other, make new contacts and deepen friendships with people they already know (or think they know).  So I'd like to thank everyone who joined us, and each and every speaker and panelist. Quality ruled!
Throughout the summit I was thrilled. But I was also saddened to hear a young sales star – who sells several million dollars in promo products a year – say he doesn't think our industry is sexy and that he never tells friends what he does for a living.
In my final address to the Power Summit attendees I shared that story – and really let loose in response. I told our audience I've been excited by the industry since the day I started nearly 11 years ago. I'm proud of what I do and of the incredible ROI promotional products provide. Every day, I'm amazed by the continual creativity of our products and the talented people in our industry. I can't imagine having more fun anywhere else.