Lights, Camera, Ad Specialties
Tuesday April 10, 2012 | Filed under: ASI Shows, Media Coverage, Members, News About ASI
Scores of reporters were drawn to ASI's recent San Diego show, resulting in a ton of great press for the industry. One TV reporter called the show "the coolest convention of the year" thanks to the creativity and ingenuity on display.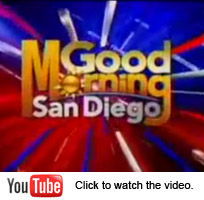 The TV reports and newspaper stories provided a strong showcase for the power of promotional products, along with terrific exposure for a number of companies, including BamBams (asi/38228), All-In-One (asi/34256), Pingline (asi/78137), Alight Promotional Products (asi/34194), Panther Vision (asi/75825), Outdoor Cap Co. (asi/75420), Yanlee Trading Co. (asi/98766), CleggPromo (asi/45450), PopOut Products (asi/68650) and A Plus Wine Designs (asi/30223).
Reporters interviewed numerous people at the show, including Brett Gent of Openers Plus (asi/63073), Jeff Grippando of WorkflowOne (asi/333647) and Carl VanderSchuit of LiteFx (asi/67740). I hope they enjoyed their time in the media spotlight!
ASI's Dave Vagnoni was on hand to expertly guide the news crews through the trade show maze, show off products to the viewing audience and discuss the amazing ROI of our $18.5 billion industry – a number that really impressed the media.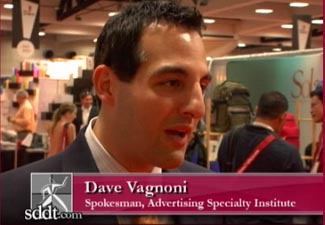 If you haven't already, check out the coverage:
KUSI-TV aired a total of six morning show segments from the convention center. Click here and here to watch.
KFMB, the CBS affiliate, aired a segment on its evening newscast. Click here to watch.
The San Diego Union-Tribune published a detailed story. Click here for the coverage.
The San Diego Daily Transcript posted a multimedia package, including a video report. Click here to watch.
For all of ASI's press coverage, visit our press page here.
FYI, we hate the use of the word "swag" too but we can't control what the press says – as hard as we try.
Let me know what you think of the coverage by posting a comment or e-mailing me here. I'm also on Twitter, LinkedIn and YouTube.