Goody Bags Score Major Points
Monday October 8, 2012 | Filed under: Media Coverage, Using Ad Specialties
No matter who you thought won the first presidential debate, it's clear the promotional products in the media goody bag really stole the show.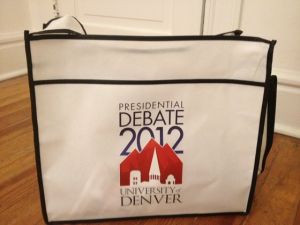 Westword, Denver's equivalent to the Village Voice, posted a gushing report on the items inside the bags the University of Denver gave out to journalists gathered in Colorado to cover the debate.
The reporter was clearly wowed by the bags' contents, which included industry staples like water bottles, lip balm, pins, pens, caps and even a gluten-free snack bar. "Upon close inspection – i.e. giddy dumping of contents on the floor – we found all sorts of surprising goods: some edible, some health-oriented and some sure to endure as mementos of another political happening that puts Denver in the spotlight," the reporter gushed.
All in all, I'm sure the bags provided long-lasting PR for the university – and our industry. Click here to read the post and see photos. (Like many reporters, this one used the word "swag," which is loved by some in our industry and hated by others!)
Let me know what you thought of the first presidential smackdown by posting a comment or e-mailing me here. I'm also on Twitter, LinkedIn and YouTube.