Five Billion Reasons to Celebrate
Thursday October 25, 2012 | Filed under: News About ASI, Using Ad Specialties
When it comes to the U.S. economy, it's difficult to determine exactly where we stand – and what the future holds. While we've seen some signs of hope in job gains, the housing market and consumer confidence, unemployment remains high and the stock market continues to be volatile.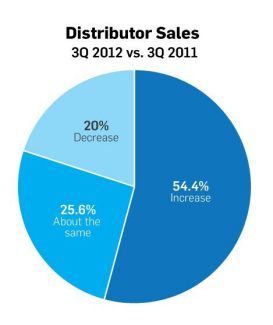 Maybe your perspective depends on what newspaper you read or whether you tune in to Fox, CNN or MSNBC. If you're reading industry news here on asicentral.com, I hope you were heartened by our reporting on the 4.6% year-over-year increase in sales among ASI distributor members – the 11th consecutive quarterly increase.
The increase was the smallest since the industry began its rebound, to be sure, but with more than half of all distributors surveyed reporting an upsurge, $5 billion in total sales is cause for celebration, especially when many U.S. companies are releasing stagnant or falling 3Q numbers.
There's no doubt election sales are impacting industry sales, with ASI estimating total election-related ad specialty spending in 2012 hitting about $870 million by the time its all over.  We derived our election estimate by comparing total promo product spending to total advertising spending in the U.S. and estimates of the total amount spent on elections this year.
Not all of the promotional political products are sold through the distributor channel, of course, but nearly half of all industry distributors sell election-related items like yard signs, flyers, pins, buttons and tee shirts used by campaigns at local, state and federal levels along with special interest groups to promote their candidate or cause.  What election items are paying off for your company? Any surprises?
Like everyone else, I'm waiting to see how else the election and its ultimate conclusion impact our industry. A lot can change in regard to health care and taxes, all of which will impact decisions on hiring, marketing spend and capital improvements. In general, it seems companies, and their clients, are taking a wait-and-see attitude.
To read the entire ASI® 3Q research report, click here.
And let me know what's happening with your business – and what you're anticipating by year's end – by posting a comment or e-mailing me here. I'm also on Twitter, LinkedIn and YouTube.