ESP Mobile Is Here
Tuesday January 17, 2012 | Filed under: ASI Shows, Industry Initiatives, Member Benefits, News About ASI, Using Ad Specialties
Drumroll, please. You can now download the free iPhone app from the Apple App store, free with your ESP subscription.
For a video with all the reasons why this should be your No. 1 app, click here. Any iPhone user can download the app today directly from iTunes here.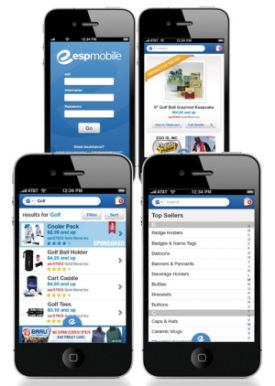 ASI's development team has automatically applied an ESP Mobile license to all members with a current license to ESP Web.  These members simply download the app from the Apple App Store and enter the same log-in credentials as ESP Web. That's all it takes.
Users who only have a license to ESP Online will need to get set up through Product Support – in a process that takes about the same time it takes to fix yourself a cup of coffee. If you have any questions, please contact ASI Product Support at 800-546-1350 (press option #2).
If you're on site with us in Orlando and have any questions about ESP Mobile, come speak to our Product Support team at the ASI Booth.
To download ESP Mobile from the App Store, follow these few simple steps:
1.  Visit the Apple App Store on your mobile device.
2.  Search for "ESP Mobile."
3.  Download the free app.
4.  Once the download is complete, tap the app icon to start up the app.
5.  Enter your credentials.
6.  Kick back and enjoy everything this new app has to offer.
Why get ESP Mobile? Check it out:
Choice. Filter product searches by supplier, color and price and sort results by price, cost, ASI number and more.
Information. Sort suppliers by ASI number, rating, area code and preferred rank. See a supplier's complete contact info, including website and line names.
Versatility. See imprint information, production time, rush services, locations and product safety warnings – all on the same screen.
Visuals. Scroll through high-quality product images and video and add products to your clipboard.
Speed. Quickly and easily find and load the product you're looking for.
Suppliers interested in advertising in ESP Mobile should contact their ASI rep or contact Gene Rahill at grahill@asicentral.com and Suzanne Izzo at sizzo@asicentral.com.

Try it and let me know what you think by posting a comment or e-mailing me here. I'm also on Twitter, LinkedIn and YouTube.