Earth First
Friday April 20, 2012 | Filed under: Community, Industry Initiatives, Members, Using Ad Specialties
I still have the $10 Earth Day T-shirt (my first ad specialty tee!) I helped sell in the quad in 1982 during my first fundraiser as secretary of the Society of Professional Journalists at Ball State University.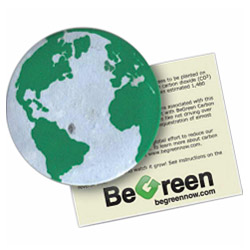 I'm still involved in ad specialties and still concerned about doing all I can to help protect the Earth. Earth Day is celebrated worldwide on April 22, and more companies than ever before are using "green" giveaways to promote their commitment to the environment while advertising their brand, product or event.
This year, in what's become an annual Top 10 list of eco-friendly freebies from ASI®, the theme is products made from renewable resources like bamboo and using manufacturing processes that don't harm the environment. It's clear there's no better way for a company to advertise its brand and its conscience all year long than with logoed giveaways that are biodegradable, all-natural or mercury-free.
To see a Joe Show, photos and descriptions featured on this year's Top 10 list, click here.
ASI's Top 10 Eco-Friendly Freebies:
1. Stone paper journal, from Yanlee Trading Co. (asi/98766). An eco-friendly alternative made from actual stone via a bleach-free process, making it recyclable, compostable, smudge-resistant, water-resistant and tear-proof.
2. Eco golf balls, from MVP Gift Bag (asi/68322). Made from recycled golf balls and packaged in boxes made from recycled paper. Comes with pre-addressed pouch so damaged balls can be returned, recycled and replaced by manufacturer.
3. Seeded paper, from Symphony Seed Paper (asi/74930). Honor Earth Day by planting flowers from seeds embedded in paper branded with company logo.
4. Wooden bead Karma bracelets (asi/78140) from Pinnacle Designs. Made from all-natural wood, easy to imprint.
5. Water bottle with carbon filter, from Ad-N-Art (asi/31518). BPA-free, squeezable water bottle with a carbon filter keeps 200 fewer water bottles from the landfill. Filter allows for turning public fountain or spigot water into clean drinking water.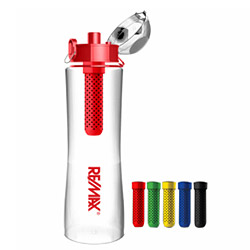 6. Eco-tee, from Royal Apparel (asi/83731). Tee consists of 50% organic cotton and 50% polyester made from recycled water bottles. Imprinted with water-safe inks and made in the USA.
7. Bamboo serving utensils, from Bay State Specialty Co. (asi/38980). Bamboo grows upwards of 6 feet a day without fertilizers or pesticides.
8. Billboard bags, from Landes Inc. (asi/66230). Worried about your used vinyl billboards and banners clogging up landfills? Landes recycles them into attention-grabbing bags.
9. Dog training treats and pad balm, from Solar Advertising (asi/88148). Made from all-natural, organic materials. Tube is biodegradable.
10. Coco-Eco flip-flops, from Neet Feet (asi/73525). Made from recycled rubber and recycled coconut fibers, they're great for promoting any company associated with the great outdoors.
Let me know what Earth Day product is your current favorite or what your company is doing to promote Earth Day values by posting a comment or e-mailing me. I'm also on Twitter, LinkedIn and YouTube.