Blown Away in the Windy City
Thursday July 19, 2012 | Filed under: ASI Shows, Community, Members, News About ASI
Here's all you need to know about ASI Chicago: Tony Robbins rocked. Mayor Daley delivered. And from all accounts, everyone who attended enjoyed the nonstop networking, show floor action and unprecedented education.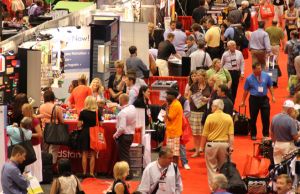 Officially, the 2012 show season is over. All that's left is the packing up and plane rides. As always, the end comes with mixed emotions. I'm happy to put another successful year behind us – and excited for 2013, when another incredible lineup awaits.
It's never too soon to register for the 2013 ASI Shows (Orlando, Jan. 5-7; Dallas, Feb. 6-8; Long Beach, March 22-24; New York, May 8-9; and Chicago, July 16-18) – registration is open at www.asishow.com. We've got a great lineup of speakers already locked in: Steve Forbes in Orlando, Emmitt Smith in Dallas, Ben Stein in Long Beach, "The Cake Boss" in New York and Christopher Gardner – the inspiration behind the movie Pursuit of Happyness – in Chicago.
If you missed us in Chicago this year, go to ASI Show, www.asicentral.com and Counselor magazine for complete coverage, including blogs and videos. Click here for Hot Party pics (look for me in the crowd. I'm the one with the red tie and big smile).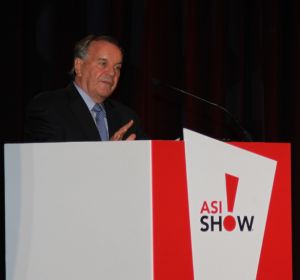 The McCormick Place show, undeniably one of the most significant shows within the industry and continually ranked as the industry's most important summer show, featured 718 exhibiting companies, up 5% from 2011 – including many Counselor® Top 40 suppliers and 204 new exhibitors to Chicago. Total distributor attendance was about 4,400 from 1,800 distributor firms.
Leadership authority Tony Robbins alone attracted over 1,000 distributors and suppliers on Tuesday, a record-breaking day of education.
Robbins' full-day program, which was co-sponsored by Fields Manufacturing (asi/54100) and Showdown Displays (asi/87188), spoke to companies large and small. Nikki Edwards, of Red Line Graphics (asi/305643), summed it up best: "Tony Robbins was fabulous and extremely energizing ... I would have paid over and over to see it, but thanks to ASI I didn't have to."
And that wasn't all.
The three-day show featured the industry's most innovative products for the fourth quarter, the New Exhibitor and Incentive Pavilions showcasing the most unique items and a total of three receptions.
Earl Bateman, from DVL Enterprises (asi/261648), says he's already planning to share the ideas he discovered on the show floor with his clients for the upcoming holiday season. Now there's a forward thinker!
Don't forget, for information on exhibiting or sponsorship opportunities for 2013, contact Karen DiTomasso, vice president of sales, at kditomasso@asicentral.com.
And if you were at the show, please let me know what you thought – and any suggestions or ideas you may have for 2013 – by posting a comment or e-mailing me here. I'm also on Twitter, LinkedIn and YouTube.