A Winning Attitude for 2012
Wednesday January 4, 2012 | Filed under: ASI Shows, News About ASI
I'm fanatical about setting New Year's resolutions. And although it's estimated a mere 2% of us ever realize our yearly goals, I've got a pretty good track record.
In 2010, I vowed to spend more time with fewer people and successfully jettisoned acquaintances or Debbie Downers, increasing the time I had to spend with people who really mean something to me.
In 2011, my No. 1 goal was to spend more time in fewer places. Instead of all those hours wasted at the airport and in the air, I stayed closer to my home in Princeton and nearby New York City and Philadelphia, which allowed for more time with loved ones – and less time enduring airport security.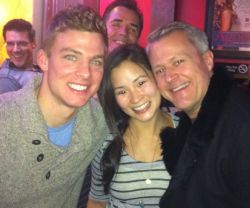 For 2012, my resolution is to convert anything and everything to digital, both personally and professionally. I feel more efficient already!
 I kicked off the New Year in Chicago, where I met two inspiring people: Ernie Halvorsen and his fiancée Cindy Chiang, who recently won "The Amazing Race," a CBS reality show that pits couples against each other in a worldwide competition.
 Ernie and Cindy, pictured with me at right in a photo taken by Elvin Montero, raced nearly 40,000 miles across four continents and 20 cities to win $1 million for being the first to cross the finish line in Atlanta.
 They plan to use their winnings to start a business to help educate children in developing countries. They're also interested in helping fight childhood obesity. Their winning attitude should serve as an inspiration to us all.
 January is of course not only the start of a new year, but the start of a new show season. We're kicking off the action at ASI Orlando, the ad specialty industry's largest event on the East Coast, January 16-18 at the Orange County Convention Center.
Click here for registration and information on a full slate of education, the new gala at Disney's Animal Kingdom, the Counselor Distributor Choice awards and an electrifying election-year keynote with political pundits Bill O'Reilly and James Carville. The sparks are surely going to fly when those two go head to head.
 And don't forget to visit ASI booths in Orlando for a live demonstration of ESP Mobile and to activate your free ESP Mobile license. An enhanced version of ESP Mobile will be available as an iPad app in March.
 From Orlando, we're off to Dallas (February 1-3), San Diego (April 2-4), New York (May 8-10) and Chicago (July 17-19).
 If you have any questions about exhibiting or sponsorship opportunities for 2012, contact Karen DiTomasso, vice president of sales, at kditomasso@asicentral.com.
 And let me know what resolutions you made this year. There's still time!