Twisting for a Good Cause
Tuesday January 25, 2011 | Filed under: ASI Shows, Community, Media Coverage, News About ASI
I haven't danced the twist in at least 30 years, but Monday night I happily joined nearly 2,000 other hearty souls in an attempt to break a Guinness World Record for twisting. The "Peppermint Twist-off" took place at our ASI Show in Orlando and it was a hoot.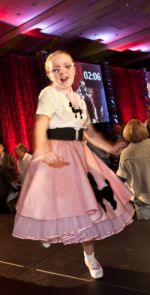 The twist-off was for a good cause – and made for great TV. The NBC affiliate in Orlando, WESH, ran a segment on our efforts and WKMG, the CBS affiliate, promoted it on their broadcast Monday morning.
Joey Dee – nattily decked out in a brilliant red suit and shoes – led the crowd in twisting to his No. 1 hit, "Peppermint Twist." Dressed adorably in classic '60s "poodle" garb were Sydney and Mackenzie Cohn, the daughters of ASI Vice-Chairman Matthew Cohn. The girls, who were diagnosed with juvenile diabetes at age 7, co-chaired the twist-off to help raise money for the Juvenile Diabetes Research Foundation International.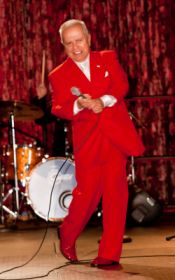 So far, Sydney and Mackenzie, now 11 and 9, have raised over a million dollars for the foundation. Monday, they helped raised a few thousand more. It's remarkable how much they've accomplished at such a young age, especially in the face of such a sobering disease.
No one knows why their immune systems went haywire and started attacking their pancreases, keeping their bodies from making insulin. Now, they live each day trying to balance their blood sugars with small machines attached to their bodies, constant blood tests, counting carbs, and insulin injections or infusions, all while trying to be regular kids.
Monday, they were exactly that. Click here to watch a video of the girls discussing the twist-off and if you can, please make a donation to the Juvenile Diabetes Research Foundation International. Click here to watch a video of the twist-off.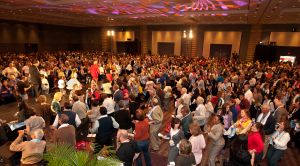 We won't know if we broke the record until Guinness officials get back to us. But that's really not as important as the effort everyone made to come together for a good cause – while having an awful lot of crazy fun.
If you were at the twist-off, please let me know how you did by posting a comment or emailing me here. I'm also on Twitter, LinkedIn and YouTube.