Promo Products Star in Dallas
Thursday February 17, 2011 | Filed under: ASI Shows, Industry Initiatives, Media Coverage, Members, News About ASI, Using Ad Specialties
Look! What's that, up in the sky? A bird? A plane? No, wait, it's Promo Man! And he's flying straight to a television set near you.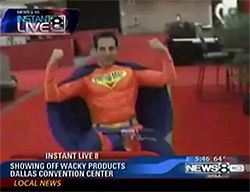 Promo Man – the new superhero of the promotional products industry – had his TV debut Thursday on a morning show broadcast by the ABC affiliate in Dallas. Direct from the ASI Show floor in the Dallas Convention Center, Promo Man showed off some of the hot products being showcased during this week's Texas trade show.
Promo Man's TV appearance is all part of ASI's on-going public relations efforts to educate end-buyers on the power of promotional products. To see the clip, click here.
Reporter Wyatt Goolsby took his Instant Live 8 camera to the convention center at 4:30 a.m. to get ready for on-site cutaways throughout WFAA-TV's 5-7 a.m. morning show.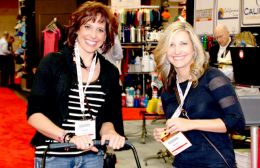 Despite the absurdly early hour, Promo Man and his side-kick – ASI's editor in chief, Melinda Ligos – were bright-eyed and bushy-tailed and no doubt fueled by copious amounts of coffee.
Promo Man demonstrated numerous products for the Dallas TV audience, including the ride-on beer cooler from Cruzin Cooler (asi/47747) and solar-powered briefcase from Golden Pacific (asi/55549). All in all, it was great publicity for the industry. WFAA serves the Dallas–Fort Worth metroplex, one of the top ten media markets in North America.
I'll keep you posted on other Promo Man appearances. For now, keep checking the skyline.
If you're at the show, let me know what you think so far by posting a comment or emailing me here. I'm also on Twitter, LinkedIn and YouTube.