Orlando Attendance Soars 38% to New Record
Tuesday January 25, 2011 | Filed under: ASI Shows, Community, Education, Members, News About ASI
The doors are closed and the results are in. The ASI Show Orlando posted record-breaking attendance of more than 6,110 distributors, up 38% from last year and up 5% from the prior record.
What a show! It's clear we're charging into 2011 pumped up by big attendance numbers and a re-energized industry. It's also clear that ASI Orlando has developed into the leading East Coast show in January, drawing from distributors across the country.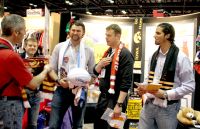 And the number of suppliers exhibiting this year is up nearly 10%, which reflects their recognition of the power of ASI Shows across the board. Suppliers tell us Orlando was one of the busiest industry shows in recent memory.
We think you'll agree that pushing the dates a few weeks later in January made a world of difference, allowing everyone time to calm down after the excitement of the holiday season. Equally as important is the economic up tick we reported today in PromoGram. There's no doubt the industry is finally in rebound.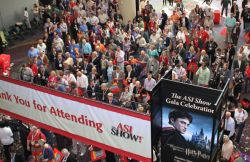 Throughout the show – from a record-breaking Education Day through the Counselor Distributor Choice Awards, the Gala Celebration and the Michael J. Fox keynote – the feedback we've received has been enormously satisfying.
Jason Grindall, from Graphco Line (asi/57956) said, "We saw more distributors here at ASI Orlando during the first day alone than we did during the entire PPAI show. We're leaving with quality leads and have spent time with many wonderful people."
Mary Ellen Nichols, from supplier Bodek & Rhodes (asi/40788), loved the incredible volume of distributors and quality attendees while David Regan, from The Vernon Group (asi/351700) called the show "a great way to start the year."
We had a blast last night along with 1,700 others who attended an exclusive networking Gala Celebration at the Wizarding World of Harry Potter at Universal Studios. Les Kania, from Imprinted Specialty Products (asi/23070), put it perfectly: "This is the way to go to an amusement park. The bars are open, the lines are short and the food is good. It's a terrific evening."
Click here for full video coverage of ASI Show Orlando. Click here for pics of our fashion show.
And don't forget to register today for the ASI Show in Dallas, Wednesday, February 16-Friday, February 18, and the ASI Show in New York, Tuesday, March 22-Wednesday, March 24, at www.asishow.com.
Let me know your thoughts on Orlando by posting a comment or emailing me here. I'm also on Twitter, LinkedIn and YouTube.