On the Air with ASI
Friday May 20, 2011 | Filed under: ASI Shows, Media Coverage, News About ASI, Using Ad Specialties
The ASI Show

in San Diego is big news this week in the gorgeous coastal city of 3 million.
San Diego's most popular morning show, on KUSI-TV, came to the convention center Thursday and aired several long segments with senior writer Dave Vagnoni demonstrating some of the hottest products the industry has to offer.
 Click here to watch.
Veteran reporter Mike Castellucci's enthusiasm for our industry was infectious. He told his viewers all about the cost-effectiveness of promo products while showing off cool items like the guitar shirt, scented T-shirts and even pillowcases that smelled like waffles.  We couldn't have paid for better advertising!
That wasn't all. In addition, CBS affiliate KFMB-TV San Diego and Fox 5 News at 10 also aired extensive clips on the San Diego show Thursday. Click here to watch CBS and click here for Fox.
We had a great time in San Diego this week and a barrel of laughs with comic Wayne Brady at his show Thursday night.  It was like an episode of the hit show "Whose Line Is It Anyway?" – but featuring all of us. Click here for my Tim's Take on highlights of the show.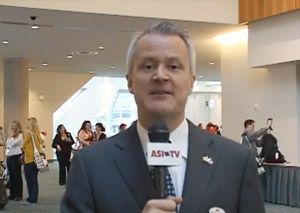 Wednesday, we honored the industry's best at the Counselor Awards.  For a word about our sponsors, click here to watch my Tim's Take.
Click here to see photos of all the action. We've got a full day if exhibits today – and then it's on to Chicago, July 19-21.
If you're at the show, let me know what you liked – or what needs improving. I'm always open to your suggestions. Post a comment or email me here. I'm also on Twitter, LinkedIn and YouTube.