Marching Toward Success with ASI
Monday December 12, 2011 | Filed under: Community, Industry Initiatives, Member Benefits, Members, News About ASI
ASI's ongoing commitment to advanced technology is moving two giant steps forward with the launch of two new initiatives: ASI SmartSales for distributors and ASI SalesPro for suppliers.
Designed specifically for this industry – in cooperation with tech giant Oracle – ASI SmartSales and ASI SalesPro represent the next generation of sales tools for industry professionals. We spent a year on R&D, and millions of dollars, to ensure our members possess the most technologically advanced sales arsenal available.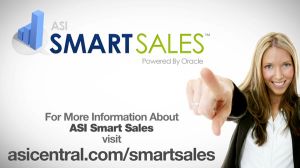 Now, it's your time.
Using ASI SmartSales, distributors will have a complete contact and lead management system to help them close more business and provide accurate forecasting. Every individual salesperson in an organization will be able to easily send out personalized e-mail campaigns with tracking and analytics. Managers will be able to track the sales pipeline and forecasts.
But don't just take our word for it. Here's what user Lisa Marks, president of On Your Marks, had to say: "Organizing customer contact information is key to a profitable distributorship. SmartSales is helping me organize my marketing and my time for the first time in many years. The fact that it's cloud-based means our entire team has access day or night. I've looked for a perfect solution to help me manage all our communication for a long time, and this is the best. I'm so grateful to ASI for teaming up with Oracle to provide this very powerful, cost-effective tool."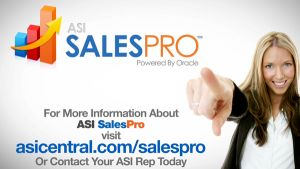 ASI SalesPro offers suppliers a sophisticated sales tool dedicated to sales management, marketing campaigns and revenue-generating capabilities. With SalesPro, every single salesperson becomes a marketing machine, with the added bonus of superior tracking and analytics.
The plug-and-play business platforms integrate Oracle's cloud-based technologies with the appropriate ASI products to create a unique, highly secure platform consisting of a hybrid implementation of cloud and locally hosted software and databases.
Distributors with ESP who are interested in ASI SmartSales should e-mail asismartsales@asicentral.com or click here (Password: Own The Customer). Members who want to sign up for ESP and ASI SmartSales should call their ASI account executive at 800-546-1350.
Suppliers interested in subscribing to ASI SalesPro should e-mail salespro@asicentral.com or call 800-546-1226. For a video demo, click here.
These new tools are intelligent, powerful, efficient – and easy to use, since we build everything at ASI with one person in mind: you.
If you have any questions, please call your sales rep today. And let me know what you think by posting a comment or e-mailing me here.