Let the Rebound Begin
Tuesday January 25, 2011 | Filed under: ASI Shows, News About ASI
We announced some great news for the industry at our show in Orlando this week: According to an ASI study, the ad specialty industry began its recovery in earnest in 2010, increasing by 9.1% over 2009 to $17 billion.
Click here for a Tim's Take video with more details on this awesome news, which we broke first in PromoGram. In the video, I also discuss our record-breaking attendance on Education Day, which attracted over 2,000 people to more than 60 education sessions, sponsored by Fields Manufacturing (asi/54100). This year, 95% of ASI's sessions are brand new.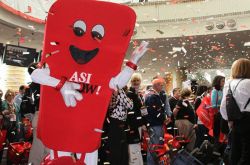 It's been a terrific day in Orlando. We started off early this morning with a wonderful keynote by actor and activist Michael J. Fox, who addressed nearly 2,000 people. He was exactly as you'd expect – funny and forthright.
"The script of your life is not written yet," he said, stressing his fight with Parkinson's disease has been an opportunity to help others. "Life is about choices and the only choice I don't have is about Parkinson's. Everything else is up to me."
As cheeky as he was playing Alex P. Keaton on "Family Ties," Fox told the audience about moving to Hollywood to pursue his acting dreams and living in an apartment so small he washed dishes in the shower.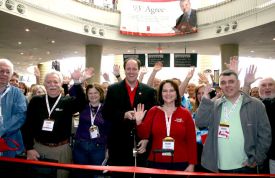 His big break happened in 1982, when the producers of "Family Ties" called. "I didn't have a phone, so I closed the deal on a pay phone outside a chicken joint," Fox said. When he was 29, and starring in another hit sitcom, "Spin City," he was broadsided. "One day there was a tremor in my pinky finger," he said. "Later a doctor sat me down and told me I had Parkinson's. I didn't want to believe it."
Refusing to give up, Fox devoted himself to finding a cure for Parkinson's disease, raising the hopes and quality of life of those who suffer from the disorder. To date, the Michael J. Fox Foundation has raised more than $225 million for Parkinson's research. "Answers aren't going to fall from the sky," Fox told ASI's audience. "We have to reach up for them."
Who's inspired you? Let me know who and how by posting a comment or emailing me here. I'm also on Twitter, LinkedIn and YouTube.