Green Going Gangbusters
Wednesday March 23, 2011 | Filed under: News About ASI, Using Ad Specialties
Before the economy took a nosedive, green products were all the rage. Now, their value and appeal is rising anew.
ASI's Green Catalog, on sale now, goes so far as to include tips, keys to being green and ways to promote eco-friendly products as a responsible alternative – something consumers are clamoring for and a perfect pitch to make to clients.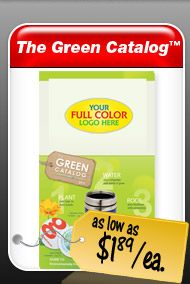 Featuring 120+ products from more than 30 suppliers, in all price ranges, the catalog showcases everything from biodegradable denim, recycled desk products, ringtone cards and grow cups to lead-free key tags, organic lip balm, eco-friendly golf balls, eco watches and all-natural dog treats.
Products are also grouped by easy-to-use categories, including bags and briefcases, clothing, drinkware, health and beauty, home, office, outdoors, pets and sports.
The Green Catalog has already sold over 80,000 copies. To get yours, contact Dan Brown, executive director of marketing services, at dbrown@asicentral.com or at 800-546-1392. To order the Green Catalog online and to see sample pages, click here.
The book ships free from now until April 15, and a free digital version comes with the print purchase. The front of each copy can be imprinted in full color with the distributor's logo and contact information, and ASI offers this feature at any time throughout the year.
Selling through catalogs continues to be an effective marketing medium for distributors and suppliers. Results of an ASI research study indicate that over 86% of active distributors declare catalogs to be important or even essential for generating sales. 
Let me know what green products are your top sellers by posting a comment or emailing me here. I'm also on Twitter, LinkedIn and YouTube.