Go for the Green
Thursday March 17, 2011 | Filed under: Members, Using Ad Specialties
Test your St. Pat's Day knowledge: What color was originally associated with the patron saint of Ireland? If you guessed blue, you'd be right. Today, of course, we brighten Irish-themed celebrations with all things green – including the rivers in Chicago.
Here at ASI, we're celebrating with our second-annual list of the top 7 promotional products lighting up St. Patrick's Day marketing promotions, advertising campaigns and themed parties. You can bet your lucky shamrock the products below will bring you some promotional green: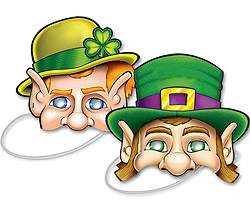 Seeded Shamrock Paper from Okina/Symphony Seed Papers (asi/74930). Seed paper ornament in a four-leaf clover shape with planting-instruction card. For more info, contact 888-824-9342 or laura@seedcards.com.
 Irish Tweed Cap from Hammacher Schlemmer (asi/59444). 100% virgin-wool tweed cap is naturally water-repellent and wind-resistant. Tiny flecks of woven color originate from dye made from blackberries, fuchsia and moss plants. For more info, contact 866-714-0530 or corporateorders@hammacher.com.
 Little Green Book of Blarney from The Book Company (asi/41010). Pocket-sized, colorfully designed gift book offers essential information, tips, recipes and more enclosed by an elastic band that also acts as a placeholder. For more info, contact 800-367-9388 or emails@thebookco.com.
 Celtic Flask from Alchemy of England (asi/33750). Round 6-ounce pewter flask with Celtic Kai knot brass inlay. For more info, contact 800-578-1065 or joy@alchemyofengland.com.
 Erin Go Bragh Flag from Eder Flagpole Co. (asi/51678). 3? x 5? nylon outdoor flag is specially treated to resist sun and chemical deterioration. Finished with a strong, durable white header and brass grommets. For more info, contact 800-558-6044 or eder@ederflag.com.
Leprechaun Masks from The Beistle Co. (asi/39540). Fun holiday masks with leprechaun faces and a 12? elastic band attached. For more info, contact 717-532-2131 or sales@beistle.com.
Shamrock Wand from Essef Distributors Inc. (asi/52710). Green plastic wand features a shamrock and a shiny array of glitter. Imprint on either shamrock face or handle. For more info, contact 516-741-4140 or info@thelincolnline.com.
 To watch a "Joe Show" video featuring the products and to see photos and purchasing information for each, click here.

And let me know how you're celebrating by posting a comment or emailing me here. I'm also on Twitter, LinkedIn and YouTube.