Dallas Show Sets Record
Friday February 18, 2011 | Filed under: ASI Shows, Community, Members, News About ASI
I'm very pleased to share the news that our Dallas show attracted nearly 3,600 distributors, an increase of 8.6% from last year, representing 1,545 distributor firms, up 10.5% – and a new record.
In addition to education and 500 exhibitors, the three-day event featured a keynote by first lady Laura W. Bush, who addressed nearly 600, a record keynote attendance. Mrs. Bush also hosted an intimate cocktail and lunch reception during the 2nd Annual ASI Women's Summit. From among 30 finalists, the summit included the first-ever "Top Women to Watch in the Advertising Specialty Industry" Awards ceremony.
In this pic, Mrs. Bush graciously poses with some of the women in attendance.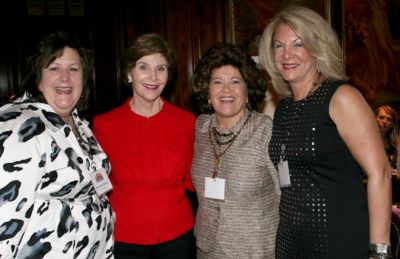 We got lots of great feedback from the show.
Kristina Fredericks from Moderne Glass (asi/71920) said the traffic was strong. "We've received a lot of great leads and sample requests and are putting together a number of programs. It's been a fabulous show and we're very pleased."
Lori Bauer from Norwood BIC Graphic (asi/40480) agreed. "Distributors are excited for the new sales year. We are seeing lots of order opportunities and business is already coming in. ASI Dallas was the perfect event to launch our latest promotion for Norwood Bags and Drinkware."
Mark Gammon from The Vernon Company (asi/351700) called the show "terrific" and said, "It's the perfect way to kick off the new year – by seeing our preferred suppliers and discussing our clients' needs with them." 
Michael Hartney from That First Impression LLC (asi/343536) summed it all up when he said, "I'm leaving with great sales ideas."
Without a doubt, our 2011 show momentum indicates no sign of stopping as we forge ahead to the ASI Show in New York City in Tuesday, March 22, through Wednesday, March 24.
Let me know your thoughts by posting a comment or emailing me here. I'm also on Twitter, LinkedIn and YouTube.