Crazy, Hazy Days of Summer
Monday June 27, 2011 | Filed under: Members, News About ASI, Using Ad Specialties
I love learning about new crazes. It gives me something to talk about at a party or while stuck in line at the DMV. Recently, Joe "The Joe Show" Haley turned me on to disc golf, which is a game played much like traditional golf. Instead of a ball and clubs, players use a flying disc. The object is to complete each hole in the fewest number of throws, instead of strokes.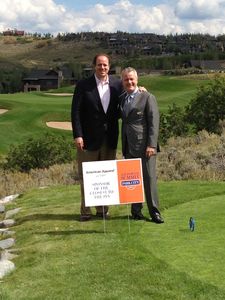 Joe discovered this newest sports fad sweeping college campuses and the burbs while researching products for our annual list of sizzling summer products. Par One (asi/75912) makes the discs, which come with a great grip and a large imprint area to promote everything from beach resorts and golf outings to company picnics and swim clubs.  
Since there are just 92 days in summer, I'm sure you're working hard to take advantage of every one. If you have any products you think we should feature, send on a sample to Joe here at ASI. You never know when it'll hit a list like the one below.
The Top 10 List of Sizzling Summer Products:
Sunblock Hat, from Whispering Pines Sportswear (asi/97027). Make like a true Aussie and beat the sun with a UPF 45+ cap, perfect for golf outings and beach resort companies.
Quick 'n Slick Sauce Brushes, from Bay State (asi/38980). The silicone brush spreads sauces smooth and easy without dripping. Great food industry giveaway.
Big Beach Towel, from Professional Towel Line (asi/79750). Super-size messages from real estate companies serving beach areas and resorts with a 35" x 60" cotton terry beach towel.
Fiji Thong Flip-Flops, from Neet Feet (asi/73525). Ideal for spas or the discerning traveler. Leaves imprinted logo or company name in the sand as you walk.
Golf Dotz, from Pure Brands Management Inc. (asi/80083). Make like a pro and transfer logo directly onto any golf ball. Super for corporate promotions, tournaments and giveaways.
BrandRims Sunglasses, from BrandRims (asi/41541). Provides complete coverage of logo and designs across the entire sunglass frame, for any sporting event or company picnic.
The Art Kite, from The Art Kite (asi/37118). Poster art that flies. Fly it, then hang it on the wall to show off logo or color photo for years to come.
Grill Mitt, from The ETC Line (asi/36558).  A 16" super mitt that will protect users from fingertip to elbow. Fire companies can give it away to promote fire safety.
Bucket Cooler, from The Bag Factory (asi/68507). Lays flat for easy storage, then pops open for tailgating, trips to the beach or backyard grilling. Ideal for "cool" promotions.
Disc Golf, from Par One (asi/75912).
Click here to watch a Joe Show demo of the products. Click here for more photos and complete product descriptions.

And if you have any super summer promotions planned, post a comment or email me here. I'm also on Twitter, LinkedIn and YouTube.