Are You Ready For Some Football (Products)?
Wednesday October 5, 2011 | Filed under: Media Coverage, News About ASI, Research, Using Ad Specialties
Whether you're betting on the Packers or the Bears, the Tarheels or the Cardinals, chances are you're gearing up for some kind of NFL or college football party this season. Knowing how important football - and tailgating - is to millions of Americans, we conducted a survey on the use of gridiron-related promotional products.
Results show a whopping 66% of those surveyed have been given a free football-related shirt that also advertises a business.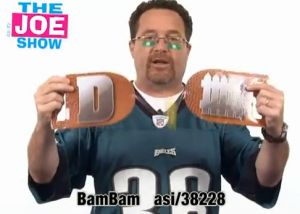 The survey concerned tailgating habits along with the use of ad specialties in high school, college or professional football tailgating or parties. All told, 62% told us they've attended a tailgating event at a football game. So it's clear that football-related promo products are a safe bet for businesses looking for inexpensive and effective advertising.
For a Joe Show demo of some cool tailgating promotional products, click here.
We sent out a press release with the survey results and it generated a lot of interest, including a story in the Big Lead Sports blog, which ranks No. 4 in the U.S. among all online sports properties in terms of unique visitors.
Other survey highlights you might be able to use to liven up a sales pitch:
In the last year, 62% bought a logoed football tee or polo shirt, followed by a hat (52%) and sweatshirt (44%).
Men eat more at football parties, indicating they've consumed hamburgers, sausage/brats, hotdogs, chicken and steak more often than women.
72% participated in a football pool while tailgating.
Larry Basinait, our executive director of research services, also found the most popular NFL teams among those surveyed are Dallas Cowboys (10%), Chicago Bears (8%) and Pittsburgh Steelers, Green Bay Packers and New England Patriots (all 7%).
And like David Puddy in the "Face Painter" episode of Seinfeld, many tailgaters (17%) also report painting a part of their body before a game. In fact, nearly twice as many women as men have painted a body part for a football party (20% vs. 11%, respectively). That one really surprised me!
Fans surveyed about their favorite football-related item cited everything from an autographed Joe Namath helmet, Dallas Cowboys clock, Green Bay Packers Crock-Pot and stuffed Penn State Nittany Lion to vehicle flags, terrible towels, bobbleheads and custom golf carts.
Do you have a treasured souvenir? What's the one product you always bring to tailgating events and games? Let me know by posting a comment or e-mailing me here.