Working for You: Promo Products on CBS Station
Wednesday May 19, 2010 | Filed under: Education, Industry Initiatives, Media Coverage, News About ASI, Using Ad Specialties
CBS affiliate WFMY of Greensboro/Winston-Salem (weekly audience: 671,980) recently showcased a number of promotional products on its long-running "Good Morning Show," including caffeinated soap, the electric riding beer cooler and the "instant abs" tee shirt.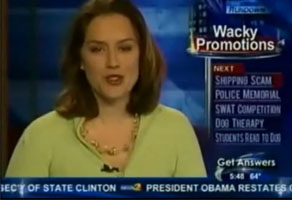 The segment was centered on the "Top 10 Wacky Ways to Promote a Business in 2010," a recent promotion that's part of ASI's ongoing push to educate end-buyers about the power of the $16 billion ad specialty industry.
To view the segment, click here.
The Top 10 Wacky Ways to Promote a Business in 2010:
Cell Phone Watch – Make like James Bond and dial and receive calls from your wristwatch.
Shower Shock – The world's first caffeinated soap offers the ultimate clean buzz.
Celebarktion Gourmet Pet Treats – Pet lovers go bow-wow for large imprintable dog bones.
Flower Ballz – Hand-rolled by people with developmental disabilities, they burst into bloom.
Metal Man USB Drive – Shiny, happy USB execs with removable head/flash drive.
Recycled Billboard Bag – Vinyl messenger bag is custom-made from your old billboards.
Footzyrolls – A hot gift for high-heeled women, these roll-up shoes fit in the smallest clutch.
EZ Freeze – This cereal-on-the-go bowl lets breakfast lovers enjoy it anywhere, anytime.
Cruzin Cooler – Ride to the tailgating party on a cooler big enough for a case on ice. 
Degree Tee Shirt – Aspiring Arnolds get a boost from heat-activated "instant abs" tee shirt.
For photos of all products and purchasing information, click here. 

So far, the ASI press release touting the "Top 10 Wacky Way to Promote a Business in 2010" has been picked up or posted by more than 150 news outlets and blogs.

I'd love to know what promotions are working for you, so please post a comment or email me here. I'm also on Twitter, LinkedIn and YouTube.