Some Like it Cool…We Like it Hot
Thursday July 1, 2010 | Filed under: Industry Initiatives, Using Ad Specialties
One of the best parts of this job is checking out all the cool stuff fueling this industry. This week, we released a Top 10 list of the hottest products with the season's coolest features, including a USB wind turbine and a football that transforms into a can koozie.
What more do you need on a hot summer day – or to inject a little sizzle into a summertime promotional campaign?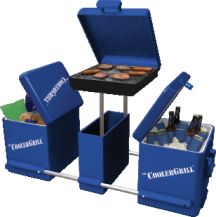 The Top 10 Coolest Hot Products:
Electronic Rock Guitar Shirt:  Features mini amp and magnetic picks to strum "guitar."
The CoolerGrill:  Keep cold ones cold while you grill. High-end promo appeal.
USB Wind Turbine:  Wow appeal for eco conventions and conservation conferences.
Flexi-Vase:  Lays flat when not in use, then takes on vase shape when filled with water.
5-Color Fun Crayon:  Perfect for education or day-care promotions/giveaways.
Matrix Travel Wallet:  Great giveaway for executives or traveling salespeople.
Silicone Oven Mitt:  Won't melt, stain or scratch. Never loses its shape.
Slap-On Watch:  Slap on, slap off. Look out, next generation! Comes in 6 colors.
Can-In-Ball Koozie:  Promote teams or beverage companies with a football can cooler.
Deep-Etched Olive Oil:  Etch anything on lovely 750-ml bottle of Italian olive oil.
To see photos of the products and purchasing information for each, click here. And for more info, click here to read our press release.

What products are heating up your recent campaigns? Let me know by posting a comment or emailing me here. I'm also on Twitter, LinkedIn and YouTube.