Select the Best of the Best
Wednesday October 6, 2010 | Filed under: News About ASI, Using Ad Specialties
Here at ASI, we take your feedback seriously. In the last year, for instance, distributors rated over 100,000 transactions in 25,000 supplier ratings reports to help determine the industry's top-rated suppliers. Those suppliers – the ones you rated four-stars or above – are now featured in the 2011 Select catalog.
When distributors choose Select to market themselves, what they're really choosing is excellent customer service, high-quality products and timely delivery. It's the worry-free choice.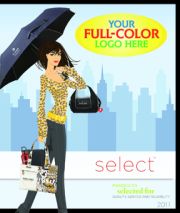 To read our press release on the 2011 Select, click here. To see Select pages, click here.
Select is one of eight customized catalogs offered by ASI as sales-generating tools for suppliers to advertise a wide variety of products and for distributors to sell, market and promote their brand. What sets Select apart is its keen presentation: the high-quality product display looks and feels professional.
Inside, you'll find more than 175 products, including clocks and watches, apparel, executive gifts, and food and drink items, all of which will appeal to a wide variety of buyers for their marketing campaigns, events or recognition programs. 
And each copy can be imprinted in full color and personalized with the distributor's logo and contact information on the cover any time throughout the year.
For more information about Select, contact Dan Brown, ASI's executive director of distributor services, at dbrown@asicentral.com or at 800-546-1350. 
Check out the 2011 Select and let me know what you think by posting a comment or emailing me here. I'm also on Twitter, LinkedIn and YouTube.