Savvy Solutions Provide Keys to Success
Tuesday May 11, 2010 | Filed under: ASI Shows, Members, News About ASI, Using Ad Specialties
I recently put MediaTree President Rob Watson on the "Hot Seat" at our New York Show to discuss how his company rode the Internet wave to become one of the world's leading digital advertising agencies exclusive to the promo products industry.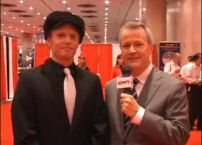 In my Tim's Take video, which you can watch by clicking here, Rob describes MediaTree as hip and cool, and I have to agree. I met up with Rob and MediaTree CEO Bill Grassmyer at last week's Counselor Awards, when Bill was named Supplier Entrepreneur of the Year.
Barely 30, Rob was named MediaTree's president in April 2008 after enjoying major success as the company's director of marketing. Since starting up 15 years ago, MediaTree has developed online solutions for brands and Fortune 500 companies from Agway, Bayer and Coca-Cola to ReMax, United Airlines and Whirlpool.
It works like this: MediaTree partners with select promotional product distributors to develop customized promotional and incentive programs.  Having exclusive relationships with the most recognized online content providers, MediaTree offers virtually unlimited content and content combinations.
Knowing the savviest distributors are now selling full, turnkey solutions, MediaTree took that same model and is now the solution provider for the online part of the equation.
In my interview, I asked Rob about the credit quandary some distributors are reporting in this economy and he said the best solution is for distributors to develop as strong a relationship as possible with suppliers in order to obtain the best possible terms.
His company further stokes those relationships by making sure company reps have superior sales sheets and PowerPoint presentations to take on sales calls to entice potential clients.
Let me know what solutions your company is providing that set you apart by posting a comment or emailing me here. I'm also on Twitter, LinkedIn and YouTube.