Real Estate Mogul Tells It Like It Is
Tuesday April 6, 2010 | Filed under: ASI Shows, Community
Barbara Corcoran is a natural-born storyteller with a million-dollar attitude.  Tuesday, she dished out valuable bits of business advice on ASI Internet Radio along with gems from her incredible rags-to-riches rise.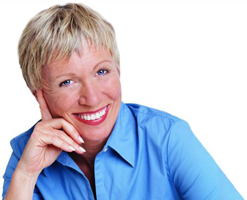 One of 10 children raised in a 2-bedroom flat, Corcoran had nothing to lose and nowhere to go but up when a customer at the diner she worked at lent her $1,000 and told her she'd make a great real estate agent.  She parlayed that initial investment into a multi-million-dollar real estate business.  This from a woman who didn't even read until the 7th grade.
After this interview, I'm happier than ever Corcoran is our keynote speaker at the first ASI Women's Summit in New York City on Tuesday, May 4.  Register by Friday and save $100.  And if you missed this morning's interview, check it out online by clicking here.
To succeed, she told listeners, play the confidence game.  Convincing herself she had a right to as much success as possible gave her the confidence to knock on Donald Trump's door early in her career.
Or take a page from Corcoran's memoir, "If You Don't Have Big Breasts, Put Ribbons on Your Pigtails," and use whatever advantage you have available.
Want to build buzz about your business?  Publish a trend report (which can be as simple as "9 out of 10 teens choose blue as their favorite tee shirt color") and pitch a stat-laden story to the press.  Better yet, get quoted as an industry expert on a blog or in the newspaper.  "The press is the golden chalice," she said.  "Use the press to build your brand.  The little guy has the corner on creativity."
Corcoran also advised listeners to always be honest "because people can see through baloney a mile away and truthfulness breeds trust."
To move product, make salespeople feel like winners.  She once motivated her sales force to sell more million-dollar homes by handing out big gold ribbons imprinted with "million dollars." Recognition, she said, "is the name of the game in motivating salespeople."  
To get an even better idea of the kind of advice she'll hand out at the summit, check out Corcoran's weekly report on the real estate market on NBC's "Today Show."  She's also an investor/shark on ABC's reality hit TV show "Shark Tank."
No matter how she delivers her message, you can be sure Corcoran will tell it like it is.  What piece of advice motivates you?  Let me know by posting a comment or emailing me here.  I'm also on Twitter, LinkedIn and YouTube.