Log On and Fan the World
Wednesday July 28, 2010 | Filed under: Community, News About ASI, Research
Half a billion people worldwide now use the social networking site Facebook to stay connected. If Facebook was its own country, it would be the third most populous nation in the world, according to PC World.
Here at ASI, we're doing our part. I routinely blog, Tweet – you name it – along with numerous other employees. Our ASICentral.com team alone already has 2,130 fans, and counting.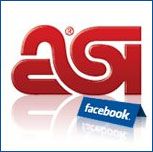 If you're not actively using these free online tools to generate interest in your company, it's time to jump on the bandwagon. Facebook says half of its active users log on to the site on any given day.
So I was happy to answer some questions for Promo35, a Facebook forum for young industry professionals. The group is the brainchild of Charley Johnson of SnugZ/USA (asi/88060), who routinely posts interviews with industry leaders and movers and shakers.
Recently, Johnson turned his eye to me. Here's our exchange:
1.  Are you cautiously optimistic about the 2nd half of the year or do you see it getting even better than the 1st half of 2010?
TA: Industry revenue, as measured by distributor sales, was up about 11% in the first quarter, according to our research at ASI. I expect the second quarter was up high single digits. But, that's against a very weak 2009. If sales were to grow 5% annually, it would take about six years to get back to 2008 sales levels. So it's going to be a slow climb out of a deep hole. I think 2010 will be up 5%-6% when the dust settles.
2.  Are we out of the woods with the economy or do you see a "double dip" recession headed our way?
TA: My degree is in economics, which probably makes me the least qualified person to answer this question! But I don't see a double-dip recession. I think we'll have a slow growth period, with frequent fits and starts. Don't get scared – but don't get cocky, either.
3.  Have customers become easier or more difficult to deal with due to everything that is going on in the world?
TA: It seems to me that people have gotten smarter – they expect you to deliver what you promise, and to prove what you say. That helps us because our magazines have an audited circulation (several in the industry aren't audited), so advertisers can be certain we deliver what we say in terms of readership; we marry print and digital circulation (if you're advertising in an all-digital magazine, ask for proof of readership); and we provide more metrics than anyone on digital advertising and usage.
4.  Do you see yourself changing the way you advertise in the future? 
TA: We deliver advertising messages in print (magazines, directories, catalogs, faxes), digitally (online, email) and in person (ASI Shows, Advantages Roadshows, Stitches Roadshows and regional association shows). Only a mix works, balanced for the types of people you're trying to reach and ensuring they see the messages multiple times in multiples places. No successful brand only uses one form of media. 
5.  What question do you have in your mind that you would like people in the industry to respond to?
TA: ESP Orders would save distributors 30 to 45 minutes per PO and help suppliers get accurate, complete orders without making calls on 50%-100% of all POs they receive. That would save millions of dollars in time that could be used to prospect for more customers. So my question is, how do we get more people to use it?
Let me know how much time your business devotes to online networking by posting a comment or emailing me here. I'm also on Twitter, LinkedIn and YouTube.