Let the Rebound Begin: 1st Quarter Sales Results
Thursday May 13, 2010 | Filed under: Research
Anyone who knows me would rightly describe me as bullish on this industry. Even during the stormiest days of the economic crisis, I always looked ahead, knowing a rebound was as certain as the sun – even if the timing was uncertain.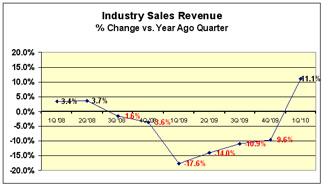 Now, it's official. The results of ASI's exclusive survey of first quarter industry sales show an 11.1%, year-over-year increase among ASI distributor members – the first increase in seven quarters. This translates to an increase in sales of $353 million over the first quarter of 2009.
Total industry sales for the first quarter of 2010 were $3.5 billion.
We released our early findings during the ASI Show New York and this week shared the news via Counselor PromoGram and www.ASICentral.com.
The word on the streets is "cautiously optimistic." While it'll certainly take some time for the industry to fully rebound to pre-recession numbers – some economists are predicting four years to fully ease the strain – perhaps we can finally start to exhale.
Here are some highlights from the survey:
Over half (51%) of respondents reported an increase in sales in the first quarter of 2010 compared to the first quarter of 2009.
Larger distributors (more than $1 million in revenue) account for the lion's share of the industry increase, as they represent approximately three-quarters of industry revenue.
To read the entire report, click here.

I'd particularly like to thank the 53 members of our new panel, comprised of some of the biggest "Big Dogs" in the industry. Each quarter, they'll allow us to tap their brains – and check their ledger balances – through their direct participation in the Sales Study, bringing an added level of consistency to our results. Of course, ASI will continue to survey a sample of our membership in deriving sales estimates.

Our second quarter 2010 Sales Study Report will be published in July. Let me know your predictions for that report by posting a comment or emailing me here. I'm also on Twitter, LinkedIn and YouTube.