Educating Buyers on Bumper Stickers – Orlando Sentinel and ASI
Wednesday January 6, 2010 | Filed under: ASI Shows, Media Coverage, News About ASI
How many bumper stickers do you have on your car?  And do you think they've ever influenced your vote?      
Two Florida politicians interviewed by Counselor editor Andy Cohen at ASI Show Orlando endorsed the bumper sticker as a key promotional product for their campaigns. The interviews were posted today on an Orlando Sentinel blog.
Click here to read the post and watch the two interviews.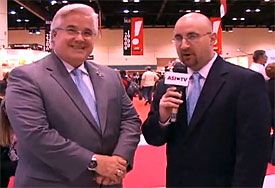 Rep. Kevin Ambler, who is running for the Florida Senate, told Andy his favorite promotional item is the tried-and-true bumper sticker - which he said his research shows accounts for about three to six votes for a candidate.
Andy spoke to Ambler and Sen. Paula Dockery, who is running for governor, and both interviews are posted on the Orlando Sentinel's business blog along with information on the show.  The paper has a circulation of over 206,000 in Central Florida.
Let me know what bumper stickers are on your car by posting a comment or emailing me here.  I'm also on Twitter, LinkedIn and YouTube.