ASI Orlando Energizes Industry for 2010
Tuesday January 5, 2010 | Filed under: ASI Shows, News About ASI
The ASI Show Orlando kicked off a brand new show season - and a new year - at what we all hope is a turning point in our industry.
This show really had it all - a rousing inspirational speech by General Colin L. Powell before 900, a "Gala Celebration" at Universal Studios attended by more than 700, and a strong Education Day attendance of nearly 1,200. ASI Orlando, which ended Tuesday after three action-packed days, proved to be an interactive event that allowed thousands of distributors to find the newest products, catalogs and pricing for the start of the sales season.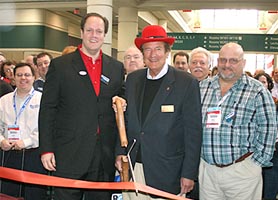 We believe the show positioned suppliers and distributors for a great recovery year in 2010. Here's what a few of them they had to say:
Margit Fawbush, marketing manager of Norwood Promotional Products:  "This year has been excellent.  The traffic is steady.  Distributors are eager to start new projects and are coming in with very specific requests as to what they are looking for.  We have found ASI Orlando very beneficial."
Scott Anderson, national sales manager of Leed's:  "All the metrics that we consider important for a show are being hit and traffic's been good.  We're very pleased with The ASI Show Orlando."
Gary Tuchler, VP of the south region for Brown & Bigelow: "ASI Orlando is a great way to kick off the New Year.  We can get everyone together, get them motivated and ready to go.  There are lots of new ideas, lots of excitement and lots of energy on the show floor."
Dave Crofoot, CEO of Western Associates:  "The ASI Show Orlando has been great.  Our salespeople are excited and have found many new ideas on the show floor."
You can read the full press release by clicking here.
And watch full video coverage of The ASI Show Orlando at asicentral.com, with several education sessions from the New Distributor Success Track, as well as ASI-TV coverage of the 2010 ASI Fashion Show.
Don't forget: It's not too early to register for the ASI Show in Dallas, from Monday, February 1, through Wednesday, February 3, and the all-new ASI Show in San Diego, from Wednesday, February 24, through Friday, February 26, at asishow.com. 
Tell me about your Orlando experiences by posting a comment or emailing me here.  I'm also on Twitter, LinkedIn and YouTube.