Promo Products to Keep us Focused - Video
Wednesday March 18, 2009 | Filed under: ASI Shows, Education, Members, Using Ad Specialties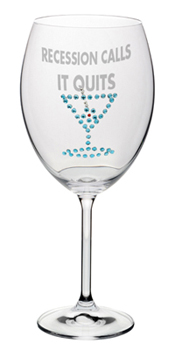 During tough times, innovation rules as businesses discover efficient and creative ways to thrive. 
The beauty of our industry is that promoting your business during downturns is cost-effective with promotional products, and now is the time to educate your clients about the high ROI advertising specialties provide.
I mentioned earlier that my friends and I decided to take a break one weekend from the doom and gloom of the recession coverage in the media and I hosted a "Recession Calls it Quits" gathering.  We traded ideas and looked at our glasses as half-full. 
For attendees I ordered - what else? - promotional products, and I wanted to share them with you so you could see what several industry suppliers created to help make the event memorable:
Foxyware rhinestone wine glass - Vegas Golf (asi/87605)
Lip balm and hand sanitizer - SnugZ (asi/88060)
Light-up martini glass, and dollar sign stress ball - Jetline (asi/63344)
Box of imprinted chocolates - Chocolate Inn (asi/44900)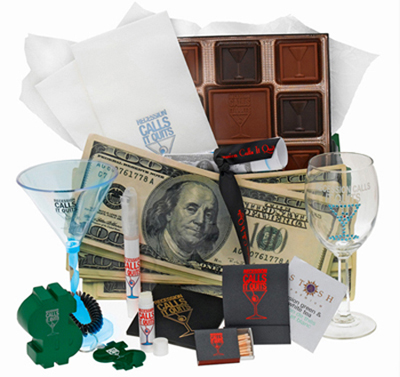 And during our recent ASI Show in New York, I found a clever bumper sticker saying "I Refuse to Participate in a Recession," from Gill Studios (asi/56950). 
Click here to watch the video with the sticker now.
I've had numerous conversations with people about what they're doing to build their business.   Tell me your ideas - post a comment now or email me.  Also, visit YouTube to watch my video of hot products from New York and share it with your clients.
Bookmark this on Delicious