New office products discount program for ASI Canada
Tuesday September 1, 2009 | Filed under: Industry Initiatives, Member Benefits, News About ASI
We're very proud of our commitment to our Canadian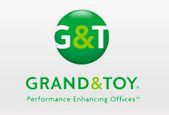 members - both distributors and suppliers - who are our "True North" neighbors. 
So I'm delighted to announce another new member benefit that gives ASI Canada members substantial discounts on over 250,000 items through office superstore Grand & Toy.
Unless you've spent time in Canada, you may not have heard of Grand & Toy, but ASI is proudly partnering with the 127-year-old company to offer this exclusive discount program.
Here's what you get:
Substantial savings on value-priced office products, including tech items and customizable office interiors.
Custom pricing on items most frequently used by ASI members.
Free, next-day delivery on in-stock orders over $50.
A dedicated business advisor.
Access to multiple ordering options, including online, phone, fax and in-store.
Secure, fast and easy ordering online.
Jay Ostrow is our executive director of distributor services for ASI Canada and he's most pleased with the testimony offered by Grand & Toy customers attesting to the company's service, reliability and competitive pricing.  As Jay puts it, "This program delivers first-class service and provides savings instantly.  It's another huge plus for our members in Canada."

The office products discount program joins other member savings programs for ASI Canada, including discounts on UPS® small package and freight shipping, UPS customs and brokerage services, email marketing tools, digital artwork services and credit card processing.  I urge you take advantage of as many savings programs as you can - they really add up and save your business time and money.

To read more in the press release,  click here.

I'd love to know what your experience has been with this and other member benefits so post a comment now or email me here.