Counselor Awards Honors Distributor Salespeople
Wednesday July 22, 2009 | Filed under: ASI Shows, Members, News About ASI
Every year I stand on stage at a fabulous venue during an ASI Show and look out on a black-tie crowd ready for our annual Counselor Awards and I feel exactly the same way:  thrilled.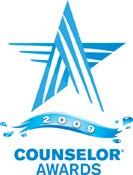 The awards recognize the best and the brightest in our industry - the outstanding individuals and companies really making their mark.Which is why in choosing the highly-anticipated Person of the Year award we made an extraordinary decision in a nod to a more challenging year:  rather than select just one individual, why not honor a group of individuals that's having the biggest impact in these times? 
Those people are our distributor salespeople and our 2009 Person of the Year is "The Distributor Salesperson" - every blockbuster distributor rep at every distributorship in our industry. 
Distributor salespeople are making the most significant impact on the market by approaching business in a unique way in these challenging economic times and we highlighted these ten qualities at the ceremony that successful reps exemplify in their work everyday:  tenacious, sincere, charismatic, passionate, resilient, empathetic, consultative, creative, organized and loyal. 
The other big winners of the 2009 Counselor Awards are:
International Person of the Year -Bonni Shevin-Sandy, president, Dard Products (asi/48500)
Distributor Entrepreneur of the Year - Derek Block, president and CEO, Touchstone (asi/345631)   
Supplier Entrepreneur of the Year - Eric Levin, president, Jetline, (asi/63344) 
Distributor Woman of Distinction - Laura Forbes, president, Zebra Marketing (asi/365683)
Bess Cohn Humanitarian Award - Linda McCabe, president, Incentive Gallery (asi/230734)
Supplier Family Business of the Year - Blue Generation (asi/40653) 
Marvin Spike Lifetime Achievement Award - Jim Moore, senior vice president of sales, Molenaar (asi/71980)
We also revealed the Top 40 Distributors and Top 40 Suppliers rankings - the largest companies in the industry based upon 2008 revenue.  And the Counselor Product Design Awards winners were recognized for their innovations in cutting-edge product design and functionality.  

To see more photos from the awards event, visit asicentral.com/counselorawards.  To view the complete Top 40 Distributors and Top 40 Suppliers rankings, visit www.stateoftheindustry.com.