Tony Robbins Booked for ASI Orlando
Tuesday September 9, 2008 | Filed under: Education, Industry Initiatives, Members, News About ASI
I'm excited to announce today that Tony Robbins, world-renowned authority on the psychology of leadership, negotiations, organizational turnaround and peak performance, will be the keynote speaker at ASI Orlando on Monday, January 5.
Seating to this event will be limited and ASI members should register for ASI Orlando at asishow.com to be guaranteed a seat.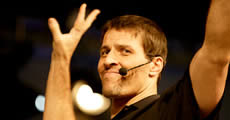 For 30 years, Tony has served as an advisor to leaders around the world.  Beyond fathering the life coaching industry, Robbins is the owner of and helps run 11 companies.
Robbins has also been honored as one of the "Top 50 Business Intellectuals in the World" by Accenture; as one of the "Top 200 Business Gurus" by Harvard Business Press; and as one of the world's "Outstanding Humanitarians" by Justice Byron White.
I'm sure our members will leave Tony's presentation with new ideas for achieving business success in our industry and growing personally.
Robbins told ASI Show today:  "I am honored to be speaking as part of The ASI Show 2009.  ASI is a leader because its members know how to thrive, not just survive, in any economic environment.  It will be a privilege to address a group that consistently delivers superior results and raises the bar in the industry."
Tony was selected based on surveys taken by ASI members and he consistently ranked among the top individuals that people most wanted to see.
To see Tony Robbins, register now for ASI Orlando, at asishow.com, or call 1-800-546-3300.  Space is limited, so in order to be sure you get a seat, register by September 30.
Tell me what you think.  Post a comment now on the blog or email me at tim.andrews@asicentral.com.  Enter your email in the "Enter your email for updates" window in the gray shaded area at the top right of the screen, and you'll get an email when there's a new blog post.
Bookmark this on Delicious