Trying to help after Virginia Tech
Monday April 23, 2007 | Filed under: Community, Industry Initiatives, News About ASI, Using Ad Specialties
One of the things I like to talk about is the "drop-everything-and-help" nature of so many companies in the ad specialty industry. Many times, when unexpected events happen, businesses in our industry and the staff working for them pitch in and help people in need.
In the aftermath of last week's horrific events at Virginia Tech in Blacksburg, Virginia, two ASI members stepped in to contribute what they could.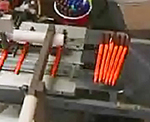 L. R. Silver, of Silver Star Promotions, a distributor in Sarasota, Florida, received a call from a public relations firm representing the Cook Counseling Center at Virginia Tech. The firm was requesting an order for 5,000 orange pens with maroon caps – the college's colors.
The school wanted the pens to be imprinted in maroon ink with their name, address, phone number and Website for the counseling center where grieving students could receive assistance, and staff had plans to distribute them throughout campus on the next day during a special memorial.

L. R. went right into action and immediately contacted Paul Woodward of Arnold Pen Inc., in Petersburg, Virginia - and the order was set in motion.
Workers at Arnold Pen literally stopped the presses, retooled and started producing the orange pens as fast as they could.
The run finished and the pens were packed and rushed to Virginia Tech under the very tight deadline, and both companies made them at cost and for no profit. Students had them in their hands the next day - in less than 24 hours - so that they knew where they could go if they needed help.

Click here to watch a video from a local news station that covered the story.
My sincere congratulations to R. L. and to Paul for what I believe is once again an instance where people in our industry pause to realize what is truly important.
If you know of more stories like these, I'd like to hear them. Post them on the blog or email me anytime, at tim.andrews@asicentral.com.
TA