Live From Orlando - Top Ten Ways to be More Successful - Listen in
Thursday January 18, 2007 | Filed under: Industry Initiatives, News About ASI
ASI Show in Orlando kicked off today – with registered attendance over 4,000 – and for Education Day I provided the keynote address to about 300 distributors and suppliers at the Orlando Convention Center.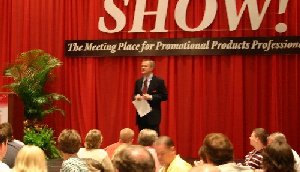 I spoke about my "Top Ten Ways to be More Successful" and what I believe are ten vital elements that can help define your success in the advertising specialty business and outside of work. Many of these points could be things you're doing already and may help spark your thinking about how you can inspire clients and how people view your brand – which is very important.
Top Ten Ways to be More Successful:
Watch your brand - maintain and protect it all the time.
Know your business - know where your business is going and know where the risks are.
Know your personal strengths, weaknesses and failures.
Differentiate yourself - figure out what people want and do it better than anyone else.
Ask for the business.
Admit when you're wrong.
Listen to your clients.
Treat clients really, really well.
Inspire your clients with ideas and execute flawlessly.
Think about and never forget where you came from.
I welcome your thoughts about this list and would enjoy hearing your stories related to it. Feel free to post on the blog or email me at tim.andrews@asicentral.com. -TA