GOT SPIRIT? | SnugZ Sure Does
Friday March 30, 2007 | Filed under: Members, News About ASI
I wanted to share some of the SnugZ story with you that was shared with nearly 400 distributors, suppliers and decorators at the ASI Spirit Awards last week in Las Vegas for the presentation of the Supplier Family Business of the Year award.
SnugZ will get you thinking about how you view your employees, your clients and your family and how you can run a better businessby treating others as you wish to be treated.
Started in 1989 with just a single product, SnugZ is a second-generation business and was founded by Patti Hicks - winner of the ASI Woman of Distinction Award in 2003.
Family businesses have to manage through many transitions, including the passing of family members. Unfortunately, in SnugZ's case, it was Patti's sudden and unexpected death in 2004.
Brandon Mackay, her son-in-law, along with his cousin and best friend, Charley Johnson, quickly moved to help preserve the company through its acquisition from her estate.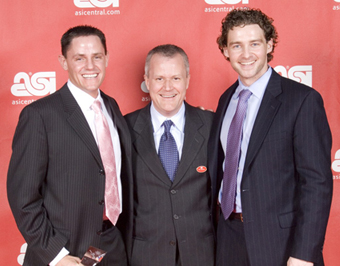 Brandon Mackay, president of SnugZ (left), with myself and Charley Johnson, vice president of marketing for SnugZ. Click here to watch a video interview with Brandon after accepting the award.
Since then, he and his team have managed the company's significant growth, through moving manufacturing to Nevada from Utah, and then back to Utah, and through the introduction of dozens of new products and new product lines.
At SnugZ, 'family' doesn't just consist of blood relatives.
As a case in point, when they decided to move manufacturing to Utah from Nevada, they offered relocation to most factory workers.
And when the day came – and this is amazing - Brandon and Charley and some colleagues rented trucks in Utah, drove to the Nevada factory where 30 families were waiting with their possessions, packed up the semis and drove all night to Utah.
Then they had each family sign an apartment lease, take a set of keys to their new homes, and move in.
Most of the people hadn't even seen the new apartments - or their new town!
But, they knew Brandon and his team - their family - would do what was right for them.
Today, many of the workers are learning English, and the spouses - most of whom don't have cars - are getting around their new neighborhood for shopping and the like on a van service run by SnugZ.
Caring actions like these define the overarching philosophy at SnugZ.
Brandon says he "wants to be the type of company that people try to model their company after, and believes that it's important to do the right thing – always!"
Congratulations to SnugZ – this year's ASI Supplier Family Business of the Year.
To view photos of more winners from this year's Spirit Awards, click: www.asicentral.com/asp/open/EducationAndEvents/SpiritAwards/photos.asp.
Do you have an inspiring story that you'd like to share about a family business in the ad specialty industry? I'd love to hear it - post it on the blog, or email me anytime at tim.andrews@asicentral.com.
TA