ASI Show Philly Moves to New York City
Monday October 8, 2007 | Filed under: Members, News About ASI
We just announced that the ASI Show! in Philadelphia is moving to New York City.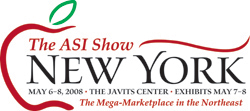 I'm excited about this because I worked in New York City on and off for more than 16 years and I know that the energy of New York will provide one of the most dynamic trade shows ever for the industry.
In addition to the show floor, there will be great places to eat, network, socialize, and do business.
Show dates – same as originally scheduled for Philadelphia – and other information is in the following media release from Matthew Cohn, president of ASI Show!. Also visit www.asishow.com>. Email me anytime, at tim.andrews@asicentral.com.
Regards,
TA
************************************************************************************************************************
ASI ShowLaunches First Industry Show in New York City
Northeast Event Relocates from Philadelphia
TREVOSE, PA — (October 9, 2007) — The ASI Show announced that it is moving its annual Northeast advertising specialty tradeshow to New York City from Philadelphia for 2008 and 2009, creating a new national event in the world's leading business and tourism destination.
The 2008 ASI New York will be May 6-8 (Tuesday through Thursday) at the Javits Convention Center, and will have the proven ASI Show format of an opening day of industry education, followed by two full exhibition days.
"After several years of negotiation, we are thrilled to be able to move The ASI Show to New York City. Multiple years of appropriate space, at ideal times of the year, just became available at the Javits Convention Center," said ASI Show President Matthew Cohn. "Our 2008 New York show is on the same dates as our previously scheduled ASI Philadelphia, which therefore won't impact the schedules of suppliers, distributors or decorators who already have the show on their calendars. It also helped us to ensure that we wouldn't adversely impact events that had chosen their dates around our previous Philadelphia schedule."
"Perhaps as exciting as the 2008 launch, is that we've also secured great first quarter dates for next year," Cohn said. "In 2009, we'll be producing ASI New York from Sunday, March 8, through Tuesday, March 10, (Education Day followed by two exhibition days) — a prime time for an industry show, and reducing timing conflicts with other Northeast events that are later in the year. Having several additional months between The ASI Show New York and Promotions East is good for the industry and we are happy to have been able to make this change starting in 2009."
ASI New York is expected to draw a wide audience from around North America and, indeed, the world. "The new location of The ASI Show will provide a broad appeal with an exciting atmosphere to our members. New York City is a very popular tourist destination," Cohn shared. "In fact, the decision to relocate our Northeast ASI Show to New York City was made based on feedback we received from our membership. Extensive surveying to our supplier and distributor members showed that New York City was the #1 choice for a Northeast event.
Booth space already reserved by suppliers for ASI Philadelphia will automatically be transferred to ASI New York, allowing exhibitors to keep their same low rate for this exciting, new location, said Karen DiTomasso, Director of Sales. "We expect to have a terrific turnout for our 2008 show," DiTomasso added. "This is the first opportunity for our members to participate in a major New York event. With more distributors within the New York City metro area than any other region in the country, ASI New York will provide a dynamic environment for suppliers to conduct business with their customers and prospects."
Over an action-packed schedule, ASI New York will feature top innovative suppliers, dozens of free education sessions, three free Keynote presentations and daily interactive networking events at some of the world's leading social hot spots. In addition, ASI distributor members will be able to enjoy a number of benefits, such as a free hotel room on the first night of exhibits.
For additional information about The ASI Show New York, visit www.asishow.com.