The revolution won't be televised, but you can bet it will be merchandised. Need proof? Just visit the home page of any major protest movement of the last few years, and in less time than it takes to chant "Give peace a chance," you'll find the "shop" button and be transported to a well-stocked virtual storefront.
The webstore for the Women's March, which has drawn millions of protesters nationwide since the beginning of last year, is powered by The Outrage, a "female-founded activist apparel company." The March for Science online shop, curated by custom apparel platform ViralStyle, is stocked with T-shirts bearing messages like "Science Not Silence" and "There is no Planet B." And March for Our Lives, the gun-legislation reform movement organized by survivors of the Feb. 14 high school shooting in Parkland, FL, worked with Custom Ink's Represent brand to create custom apparel.
"It's been a tremendous success," says Andy Louis-Charles, vice president of business development for Custom Ink, about the March for Our Lives webstore. He noted that Custom Ink helped organizers design and promote their merchandise online, resulting in more than 55,000 items sold through the webstore as of June. "The feedback has been terrific," Louis-Charles says, "and we expect the organizers of other large events will want to follow a similar model."
T-shirts have always been a part of activist culture. Consider their roots: They were first popularized as outerwear by Hollywood rebels Marlon Brando and James Dean, in their respective '50s flicks A Streetcar Named Desire and Rebel Without a Cause. "T-shirts' birth was a form of activism in itself," says Zach Corn, vice president of sales for Barrel Maker Printing (asi/528531) in Chicago.
It wasn't long before intrepid designers began to slap slogans onto the ubiquitous garment, often with an eye to furthering a cause they supported. The very first shirts screen-printing veteran Rick Roth ever produced were part of a successful 1975 movement to "Save Old Bio," a historic building on the campus of Colgate University. "We put on a protest, and a big part of it was wearing the shirt," says Roth, president of Mirror Image in Pawtucket, RI. "Back then, wearing a T-shirt showed your commitment to the cause. It's like a uniform … bolder than a pin and more ever-present than signing a petition."
Online T-shirt printing is "an innovation in clothing that parallels how the printing press democratized the creation of mass-printed paper pamphlets and posters." Andy Louis-Charles, Custom Ink
In recent years, T-shirts proudly proclaiming socially "woke" slogans and politically charged messaging have become almost ubiquitous. Perhaps the explosion of activist apparel can be attributed, in part, to the elections of a string of love-him-or-hate-him presidents that have split the country into die-hard supporters and disgusted detractors. However, the phenomenon is more than just a product of our divisive times.
The answer, as with so many aspects of modern life, lies in technology: Robust social media platforms, a highly developed on-demand printing infrastructure and intuitive e-commerce setups have converged to make it simpler than ever to launch and outfit a movement. Think of online shirt shops as modern-day Gutenbergs. "Anyone with a computer or mobile device can create and distribute a T-shirt or other personalized apparel to hundreds or thousands of like-minded peers, an innovation in clothing that parallels how the printing press democratized the creation of mass-printed paper pamphlets and posters," says Louis-Charles of Custom Ink.
"The ability to produce in mass quantities in near real-time has made custom apparel a lot more accessible at a price point more can afford," agrees Julia Li, vice president of marketing for Scalable Press (asi/87178), a technology-driven print and fulfillment company.
Plus, she adds, easy online ordering with lightning-fast fulfillment frees up activists. They can focus on raising funds, organizing demonstrations and other cause-related tasks rather than filling out tedious order forms or worrying about meeting minimums. "Our tech lets you order just one and offer this option to all followers at the click of a button," Li says.
The breakneck pace of the 24-hour news cycle and the viral spread of information online also play a role in the proliferation of protest tees and other activist apparel. The news of the day is reduced to a catchy sound bite, the sound bite becomes a meme, the meme becomes a tweet, the tweet becomes a tee. "That cycle is short, and it's quick," says Angela Ryan, strategic marketing manager at Spreadshirt.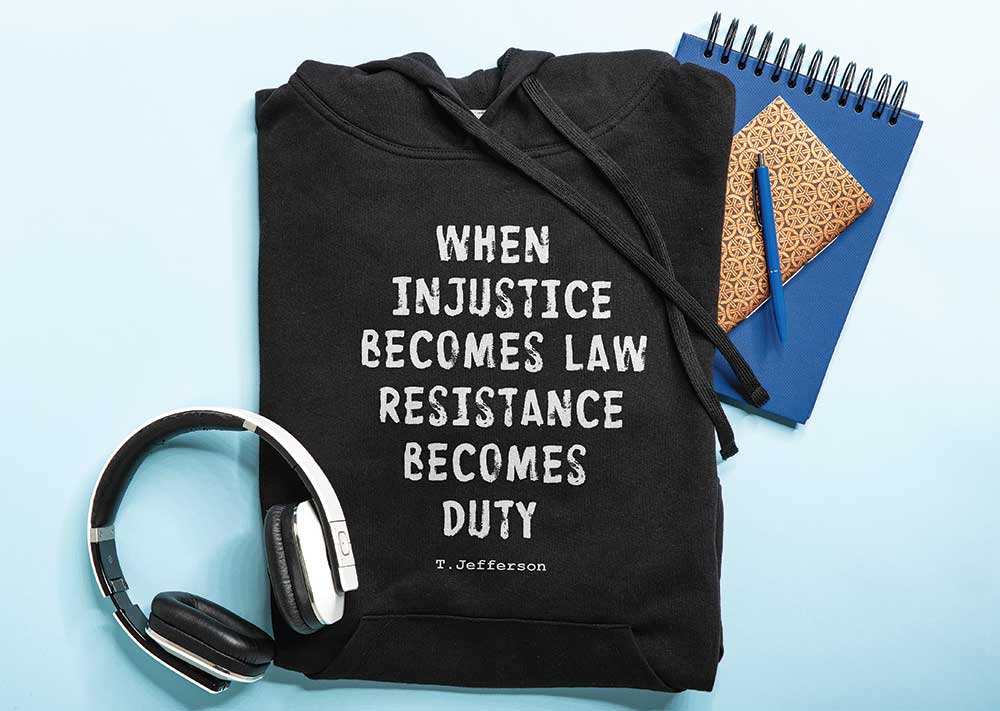 Ryan gives the example of former Texas state senator Wendy Davis' 2013 filibuster against abortion restrictions, with supporters shouting "Let her speak," when the lieutenant governor cut Davis off after roughly 10 hours. "If you weren't watching the news the day that it happened, you might have missed it," Ryan says. But entrepreneurial artists were able to capitalize on the pithy chant, posting their takes on Spreadshirt almost immediately. "That was able to spread like wildfire," she adds. "We saw sales day one. … It's definitely first to market. You have to be aware of what's going on and answer that immediately."
Some viral apparel has a short shelf life, like shirts based on former FBI director James Comey telling senators last year, "Lordy, I hope there are tapes" of his conversations with President Trump, or designs that riffed on the president's cryptic tweet typo, "Covfefe."
Other apparel, Ryan says, has staying power. People on both sides of the political spectrum are still purchasing shirts proudly declaring themselves "deplorable" or a "nasty woman," based on candidates' comments during the 2016 presidential election. "Those stuck with people for a reason," Ryan says. "It all comes back to self-expression."
Of course, the ultimate goal of activist apparel is about more than just self-expression. As Katharine Hamnett, the British fashion designer who pioneered the slogan tee back in the 1980s, said: "A successful T-shirt has to make you think but then, crucially, you have to act."
Wearing T-shirts with a strong message and bold color helps activists show a united front at protests and other events; consider, for example, the powerful imagery of a sea of striking teachers, all clad in crimson #RedforEd tees. Apparel can be an effective way to raise funds, spread awareness, spur conversations and help kindred spirits find each other in a crowd.
In addition to being a veteran screen printer, Rick Roth, owner of Mirror Image in Pawtucket, RI, is a lifelong activist, working for causes like Amnesty International and Farm Aid. Theresa Hegel of Wearables magazine spoke with Roth about why T-shirts play such an important role in activism and protests and how his own activism has affected his business.
But the commodification of activism can also create complications. Roth, who has done a lot of volunteering for Amnesty International, has been disturbed sometimes by the way people approach events where the human rights group shares information. "We're a nation of shoppers," he says. "There are a frighteningly large amount of people who just come to peruse the shirts. It's like a fashion thing. But there are many more people who want to wear a shirt and also want to engage in information."
Shoppers also have to consider carefully where their money is going and who's profiting when they purchase apparel purportedly for activist causes. Online vendors are often vague about how much – if any – money raised from activist-inspired apparel sales is going to support a particular group. "What does a large portion of the proceeds even mean?" Roth asks.
Buying official merch directly from the group you want to support is generally the best way to ensure they get support, but even then, it's possible to be hoodwinked. A few months ago, CNN reported that the biggest Black Lives Matter Facebook page was actually a scam with ties to a middle-aged white man in Australia. The page had 700,000 followers and had raised at least $100,000, partly through the sale of branded merch. A quick search of the official Black Lives Matter website, however, shows that its swag store is still listed as "coming soon."
The digital landscape is often murky, with online apparel platforms sometimes hosting millions of unique designs. It's almost inevitable that problematic artwork – whether it violates existing copyrights or espouses hate-filled fringe views – will slip through the cracks. Roth, for example, has had to battle with Amazon to get it to remove phony Farm Aid shirts from its site. "There are a lot of bootlegs," he adds.

Earlier this year, Teespring was dinged after shirts glorifying white supremacist mass shooter Dylann Roof were briefly sold on its site. Last year, Walmart got into hot water after a third-party seller posted a shirt bearing the inflammatory message: "Rope. Tree. Journalist. Some assembly required." Again, the shirt was removed once the company was notified, but not before a critical backlash.
"Platforms really have it hard," says Li of Scalable Press. "It's a bit like a game of whack-a-mole."
Scalable Press and its competitors typically employ a combination of machine learning and human moderation to scan artwork and product descriptions for offensive material and potential copyright infringement. But there are gray areas. "There are always differences of opinion, and everyone is very passionate and thinks they're in the right," Ryan of Spreadshirt says. "It's important that we're moderating and not deciding this is the right way to think. Our position is to be that middle platform and to enable artists to reach their consumer."
That said, most digital clothing platforms take the stance of refusing designs that contain hate speech or promote violence. "We train our team members on how to help customers create clothing that brings people together, rather than driving them apart," Louis-Charles says.
Though online platforms are spurring the explosive growth of activist apparel, that doesn't mean traditional decorators have been left in the dust. Many activists have a "shop local" ethos and a DIY spirit. Roth has seen protest tees made from squirting bleach cleanser on black fabric to create white images. "There's a certain rebellious bunch that don't want everything slick," Roth says.
His own daughter, Violet Neff, recently led some classmates at Green Mountain College in Poultney, VT, in printing their own "Black Lives Matter" shirts as a fundraiser for BLM Vermont. Roth sent them screens and extra shirts from his shop, and the students hand-printed the artwork on long tables, cured the ink with hairdryers and embellished their bare-bones designs using fabric markers. "We did them by hand because we couldn't afford to have them printed and because it created an engaging, creative, collaborative and empowering experience," Neff says. "Students were able to decorate their shirts to create something completely unique and personal."
It was important for Joyce Leong, a graphic designer from Portland, OR, to work with a local decorator on her apparel and accessories brand ReSistaKat. She called a number of Portland-area screen printers before connecting with Ink Brigade. "They were very supportive," Leong says. "They gave me a nonprofit discount, even though I'm not a nonprofit. They're behind it emotionally."
"If you want to print only on organic shirts and messages you agree with, you're going to be printing by yourself for about five hours a week." Rick Roth, Mirror Image
Leong redesigned the well-known Asian "lucky cat" symbol, topping it off with a pink hat of the variety worn at the 2017 Women's March and transforming its raised paw into a fist of the resistance. Leong sells ReSistaKat merchandise online, at local festivals and a few Portland boutiques. She keeps a portion of the funds to produce more products but donates most of her profits to organizations that promote racial and social equity, like the Immigrant & Refugee Community Organization (IRCO) of Portland.
Style Blueprint, a digital media brand for Southern women based out of Nashville, turned to a local decorator, Friendly Arctic Printing and Design (asi/199203), when it decided to print T-shirts during the 2016 election. "We wanted women to go out and vote, but we didn't say that in a partisan way," says Liza Graves, co-founder of Style Blueprint. "We wanted to put a positive message out in an environment that was very negative."
The first tee they released simply read "Since 1920," as a stark reminder that it hasn't quite been 100 years since most women in the U.S. got the right to vote. "It's a bit of a history lesson," Graves says of the shirt. "I really think it just symbolizes collaboration and working together in a loud voice."
Working with activists sometimes can be a fraught prospect, especially if you're worried about alienating clients on the opposite side of an issue. Not every distributor and decorator is willing or able to enter the fray.
Aimee Zeidman was conscious of potential minefields when she started her distributor firm Unforgettable Goods (asi/348200) two years ago. She wanted giving back to be a part of her company's DNA, and set out to find a charity with low overhead and a minimum of political baggage. Researching nonprofits was harder than she expected, but she eventually settled on the World Wildlife Fund, gave it prominent real estate on her company website and makes quarterly donations to support the environmentalist organization. "You have to check and double-check who you're willing to support," Zeidman says. "You have to be so careful about what you say. I don't take a side in religion or politics. … Some people say, 'I don't care. I am who I am. I'm not going to hide.' … For me, I'm too new and too small. I feel like I have to tread very lightly."
Corn of Barrel Maker Printing, on the other hand, is willing to take a side. He's not afraid to refuse a job that clashes with his personal ideology, and he's not afraid to get confrontational and explain why he's refusing the job. For instance, Corn once turned down a police officer who wanted him to print an "All Lives Matter" T-shirt, which would have featured a young black boy with his hands in the air and the caption: "Explain yourself later. Comply and submit." The officer threatened to hurt Corn, and Corn also lost the client who had referred the police officer to Barrel Maker. But when Corn posted about the incident later, many people online thanked him for standing his ground. "At the end of the day, I don't have to lie in my bed and go, 'Oh, some hateful bigot is wearing a shirt I printed today.'"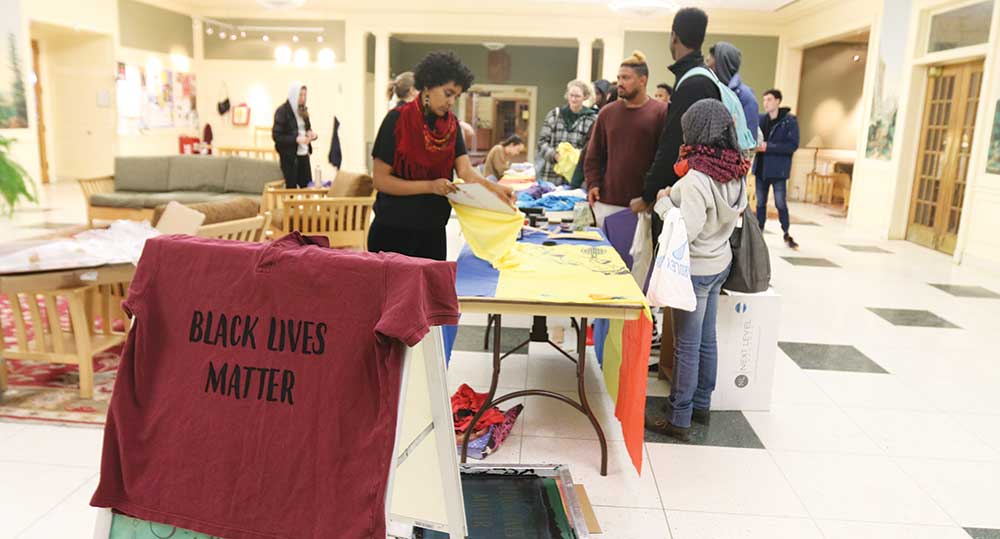 Turning away customers based on moral convictions brings with it a certain risk, beyond the potential for negative publicity, especially when said convictions may infringe on another's rights. The country's legal system, for instance, has been hashing out a number of cases where business owners cited religious reasons for refusing service. In June, the Supreme Court ruled in favor of a Colorado baker who refused to make a wedding cake for a gay couple, saying the Colorado Civil Rights Commission showed hostility toward the owner of Masterpiece Cakeshop based on religion. But the narrow ruling didn't settle the matter for all such cases.
The Kentucky Supreme Court is set to hear a similar case involving Hands On Originals (asi/219413), a Lexington, KY-based company that specializes in producing branded apparel for Christian organizations, schools and others. In 2012, the Gay and Lesbian Services Organization (GLSO) ordered shirts from the printer for its Pride festival, but the owner declined, saying it would conflict with his conscience.
As legal experts told Time in a recent article, businesses do have some freedom in deciding who they serve, but in many cases, the legality depends on why service was refused and what the local anti-discrimination and public accommodation laws protect.
On the flip side, actively reaching out to help causes can benefit a business. Roth has never been afraid to wear his heart on his sleeve, and he says marrying his activism to his decoration business has actually helped his shop thrive. "I've had talented people work for me who wouldn't have if we didn't give back," he says. "Just printing T-shirts alone would not have kept them working for me."
Indeed, the warm and fuzzy feeling derived from helping out a cause sometimes outweighs financial considerations. A highlight of Corn's career was helping a 17-year-old student print T-shirts featuring an image of Rosie the Riveter wearing the hijab to demonstrate that feminism and Islam aren't mutually exclusive. Malak Afaneh was featured in an online Chicago newspaper last year, after printing 130 of the shirts using screen-printing equipment at her tech school. Corn was appalled at commenters "ripping her apart" online and offered to help Afaneh set up a webstore and print some shirts for her. "If she's being bullied on the internet because she's doing something awesome and promoting love and peace, it doesn't matter what her budget is, I'm going to do it," Corn says. "It was a total flop, it didn't make us any money … but it's one of the shirts I'm most proud of."
At the end of the day, of course, distributors and decorators are still running a business and need to keep an eye on their bottom line. They have to strike the somewhat delicate balance between printing their conscience and paying the bills. Roth, for example, once turned down the opportunity to print more than 50,000 shirts for conservative talk show host Rush Limbaugh – a job that would've been his biggest ever – but there have been many other times he's printed shirts he didn't fully endorse. "If you want to print only on organic shirts and messages you agree with," says Roth, "you're going to be printing by yourself for about five hours a week."