Advertising Specialties Sales Reached $19.6 Billion in 2007
Up 5.4% Versus 2006 and a New Record
TREVOSE, PA – April 8, 2008 - The Advertising Specialty Institute® (ASI), the largest media and marketing organization serving the advertising specialty industry, announced today results of its annual advertising specialties sales analysis indicating that industry revenues reached $19.6 billion in 2007 – up 5.4 percent from 2006 and a new record.
Spending on advertising specialties, or promotional products - items and incentives branded with a company logo or marketing message - was 83% greater than radio advertising, 73% greater than Internet display ads and nearly five times larger than outdoor advertising* for the same period.  Industry increases also outpaced the 2.2% growth rate for the United States GDP.
"This is the highest industry sales we have recorded and shows continued growth of promotional products over the last five years," said Timothy M. Andrews, president and chief executive officer of ASI.  "The growth reflects continued use of advertising specialties by marketers who want to deliver their brand in a powerful, memorable and cost-effective way."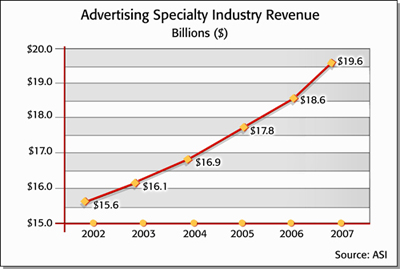 "In today's climate of increasing economic uncertainty, purchasing decisions for advertising and marketing are being scrutinized closely," said Andrews.  "Advertising specialties are a relatively safe advertising investment and are nearly recession-proof, because they provide a proven high return-on-investment at a low cost and have a lasting impact on target audiences."
Andrews also commented that the traditional advertising specialty industry is expanding in part by embracing more companies - including those that decorate, embroider and engrave promotional items and business gifts. 
Many of these distributors and suppliers have now qualified to become part of the ASI network, allowing them to access some of the $1.3 million in educational opportunities ASI provides each year.  These opportunities make them more knowledgeable and give them the chance to attend five ASI Shows and any of the 70 Advantages Roadshows in 18 North American cities.
Reactions
ASI distributors offered their thoughts about marketplace growth in 2007.
"Especially in times of economic distress, businesses and institutions turn to incentive marketing," said Jo-an Lantz, executive vice president of Geiger (asi/196480).  "The pressure is on to spend wisely.  Marketers are held accountable for their ad spend, and promotional products lend themselves to targeted marketing and measurable investment versus other media."
"Because of the downturn in the economy, I feel the clients we work with are looking for a more effective marketing method," said Angela Davis, president of Award Solutions Inc. (asi/128042).  "They are looking for more control over their marketing dollar.  Promotional products give them this and we have seen an increase in sales because of it." 
"There is no question that economic activity has been down with some clients and in some industries and geographic areas for the past year or so," said David Woods, president and CEO of Adventures in Advertising (asi/109480).  "Recently we have seen a number of clients significantly increase their purchases, and there seems to be a lot of activity with new web stores.  We have also had the best first quarter in several years for recruiting new people into the AIA system.  We are thus cautiously optimistic that this will be a very good year for AIA, quite possibly our best year ever!"
"As budgets tighten, we expect more advertising to move from media to promotional products," said David Lewenberg, vice president for Genumark Promotional Merchandise Inc. (asi/204588).  "And, therefore, continue to expect an increase in 2008, despite downward economic expectations overall."
ASI suppliers found 2007 to be a record-breaking year.
"We have experienced tremendous growth and we expected to see some slow-down due to the economy, but so far that has not affected our business," said Lon McGowan, president of iClick, Inc. (asi/62124).  "Our total sales have doubled in the last 12 months.  iClick is in a unique market position, though, because we supply the fastest-growing product category in the industry - USB drives.  The key to surviving a recession is to offer products that deliver targeted marketing messages and at a price that won't break the bank."
"Promotional products offer an opportunity to creatively advertise a company or product," said Carol Constantino, president of Noteworthy Company (asi/74360).  "Since the life span of a promotional product extends beyond a conventional ad, savvy marketers recognize value and ultimately extend their advertising dollars to reinforce an ad campaign with the diverse product lines that our industry offers."
Outlook
Distributors are optimistic about 2008, but continue to watch several factors impacting the industry: 
1)  Ensuring product safety and compliance.
2)  Increasing demand for products that are environment-friendly.
3)  Volatility of prices for natural resources used in manufacturing, such as oil for plastics.
ASI is closely monitoring these factors and other marketplace developments to keep distributors and suppliers informed through its 13 print and electronic publications. 
To learn more about the annual sales analysis and other ASI research, contact Larry Basinait, executive director of research services, at 800-546-1350 or at lbasinait@asicentral.com.    
About ASI
Advertising Specialty Institute is the largest media and marketing organization serving the advertising specialty industry, with a membership of over 25,000 distributor firms (sellers) and supplier firms (manufacturers) of advertising specialties.  Supplier firms use ASI print and electronic resources to market products to over 21,000 ASI distributor firms.  Distributor firms use ASI print and electronic resources, which contain nearly every product in the industry from more than 3,500 reputable suppliers, to locate supplier firms and to market services to buyers.  ASI provides catalogs, information directories, newsletters, magazines, websites and databases, and offers e-commerce, marketing and selling tools.  Visit www.asicentral.com.
*  Source:  TNS Media Intelligence - the leading provider of competitive advertising information across brands, media and industries.  Estimated 2007 spending for radio ads was $10.7 billion, Internet display ads $11.3 billion, and outdoor $4 billion.
Methodology – This analysis from ASI is widely-acknowledged as the most accurate and most comprehensive estimate available, derived by a census of total advertising specialties sales from more than 25,000 ASI distributor members.  Distributor members of ASI represent approximately 95 percent of all sales volume in the industry and an estimated valid median dollar value was assigned to the remaining relative five percent that are not members of ASI.