The ASI Show Orlando Energizes Industry for 2010
General Colin Powell Inspires Capacity Crowd
TREVOSE, PA – January 5, 2010 – The ASI Show Orlando ended today after a rousing inspirational speech by General Colin L. Powell, USA (Ret.), the former Chairman of Joint Chiefs of Staff and Secretary of State.
A standing-room-only crowd of more than 900 distributors, suppliers and decorators cheered as Powell, appearing this morning as keynote speaker, told stories of overcoming challenges to lead organizations of all sizes – from a few dozen people to millions – through stressful times that required change, development of new solutions to problems and seeing beyond today.
Powell cautioned the audience to avoid looking back in rearview mirrors, advising that looking forward is the only way to succeed.  Giving your "followers" – whether they're colleagues, family members or customers – superior tools, products and support is the way to win in a difficult economic climate.

The keynote was sponsored by DYR (asi/48051).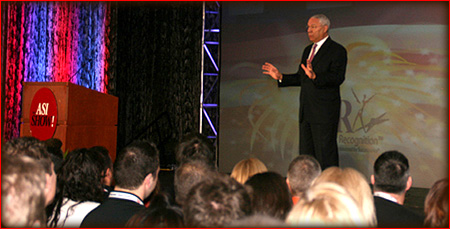 Gen. Colin Powell addresses standing-room-only crowd at ASI Show Orlando
The ASI Show Orlando opened Sunday with strong Education Day attendance of nearly 1,200 – down slightly from last year's record, but up 10% from 2008.
Located in a leading trade show city, The ASI Show Orlando provided an interactive event that allowed thousands of distributors to find the newest products, catalogs and pricing for the start of the sales season.
The ASI Show Orlando was held at the Orange County Convention Center Sunday, January 3, through Tuesday, January 5.  The industry's largest event on the East Coast, the show featured hundreds of leading suppliers, including nearly 150 new to Orlando, and more than 60 education sessions.
"We're delighted to kick off a brand new show season – and a new year – with such a successful show at what we all hope is a turning point in our industry," said Timothy M. Andrews, president of The ASI Show and president and chief executive officer of ASI.  "While total attendance was off slightly from last year's robust turnout, everyone is thrilled with this year's event, and I believe ASI Orlando has positioned suppliers and distributors for a great recovery year in 2010."
Monday night, more than 700 people attended a networking "Gala Celebration" at the industry's biggest party at Universal Studios, sponsored by SnugZ/USA (asi/88060).  ASI also showcased the latest in casual wear at its 2010 Fashion Show.
Suppliers enjoyed steady traffic, numerous networking opportunities and exposure to quality distributors during the two exhibition days.
"This year has been excellent," said Margit Fawbush, marketing manager of Norwood Promotional Products.  "The traffic is steady.  Distributors are eager to start new projects and are coming in with very specific requests as to what they are looking for.  We have found ASI Orlando very beneficial."
Scott Anderson, national sales manager of Leed's (asi/66887), added, "All the metrics that we consider important for a show are being hit and traffic's been good.  We're very pleased with The ASI Show Orlando."
Distributors say ASI started off a new show season with a bang.
"ASI Orlando is a great way to kick off the New Year," said Gary Tuchler, vice president for the south region for Brown & Bigelow (asi/148500).  "We can get everyone together, get them motivated and ready to go.  There are lots of new ideas, lots of excitement and lots of energy on the show floor."
Dave Crofoot, CEO of Western Associates (asi/358500) added, "The ASI Show Orlando has been great.  Our salespeople are excited and have found many new ideas on the show floor."
In addition, Counselor magazine hosted the Counselor Distributor Choice Awards on Sunday, recognizing the most-valued ASI suppliers in 50 product categories and presenting the highest honor of "Supplier of the Year" to Gold Bond (asi/57653).  For the list of winners and finalists, and to view photos from the ceremony, visit asicentral.com/dcawards.
Full video coverage of The ASI Show Orlando is available at asicentral.com, with several education sessions from the New Distributor Success Track, as well as ASI-TV coverage of the 2010 ASI Fashion Show.
 
Register today for the ASI Show in Dallas, from Monday, February 1, through Wednesday, February 3, and the all-new ASI Show in San Diego, from Wednesday, February 24, through Friday, February 26, at asishow.com.  To learn more about exhibiting or sponsorship opportunities, contact Karen DiTomasso, vice president of sales, at kditomasso@asicentral.com.

About ASI
The Advertising Specialty Institute is the largest media and marketing organization serving the advertising specialty industry, with a membership of over 26,000 distributor firms (sellers) and supplier firms (manufacturers) of advertising specialties.  Supplier firms use ASI print and electronic resources to market products to over 22,000 ASI distributor firms.  Distributor firms use ASI print and electronic resources, which contain nearly every product in the industry from more than 3,500 reputable suppliers, to locate supplier firms and to market services to buyers.  ASI provides catalogs, information directories, newsletters, magazines, websites and databases, and offers e-commerce, marketing and selling tools.  Visit ASI online at asicentral.com and on Facebook, Twitter, LinkedIn, YouTube, the CEO's blog and the ASI Social Network.