ASI Dallas Show Attendance Up 10%, New Record
Education Day Hits 1,000; Total Distributor Attendance Above 3,900
TREVOSE, PA – February 6, 2009 – ASI Show announced that its Dallas show posted record distributor attendance of more than 3,900, up 10% from last year, representing 1,425 firms.
The 2009 attendance beats the prior record of 3,750 distributor attendees, set in 2007.
"In one of the toughest economies in decades, we are obviously thrilled to have delivered a record attendance at ASI Dallas," said Timothy M. Andrews, president of The ASI Show and president and chief executive officer of ASI. "With strong attendance at ASI Orlando in January, and the new Dallas record, we've delivered the most successful first-quarter industry shows in 2009."
"Our team has been focused on growing quality attendance, in a show environment that is productive for interaction among distributors, suppliers and decorators, and this week everyone told us we delivered," said Andrews.

"In addition to education, networking and entertainment, attendees were energized in a keynote presentation by best-selling author and business expert Don Huston, entitled "The One Minute Entrepreneur: How to Prosper Beyond Your Wildest Dreams."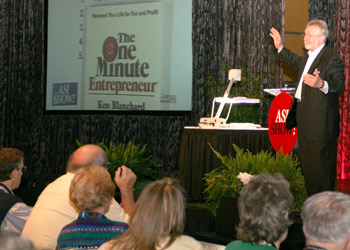 "The Dallas show, held February 4-6 at the Dallas Convention Center, is the largest industry event in the Southwest. ASI Dallas featured thousands of new products and services for the start of the year, and delivered 550 suppliers, over 70 education workshops (sponsored by Fields Mfg, asi/54100), and its first-ever After Party (sponsored by The Magnet Group, asi/68507 and Spirit Industries, asi/88740) after The Ultimate Texas Bash at Eddie Deen's Ranch.

"This is a critical time in our industry," Andrews said, "and I believe our unique combination of education, business interaction on the exhibition floor, networking events and entertainment helps to energize the industry to perform exceptionally well in 2009."

Numerous enhancements provided additional benefits for distributors and suppliers in Dallas, including:
More education.  Over 70% of education offerings in Dallas were new, including a "distributor success" track, which attracted more than 200 distributors. A "supplier clinics" program designed specifically for ad specialty suppliers provided actionable examples of how to manage business in a challenging environment. Overall, about 1,000 distributors attended education sessions. 
Improved Technology.  Upgraded technology and self-service kiosks streamlined registration to get suppliers onto the show floor more quickly on setup day, while distributors enjoyed a brighter, more accessible registration area with shorter lines.
Advantages New Product Digest.  Featuring the hottest items for 2009 from the Advantages products showcase in one catalog, with description, company booth number and ASI number for easy reference. 
Fresh Branding.  New colors, designs and badges individually branded for Dallas, and for each of the remaining three ASI Shows in 2009.
Daily Live ASI Radio broadcasts.  Before exhibits opened each day on Thursday and Friday, ASI's Internet radio show broadcast live with guests and industry commentary. Click here to listen to recordings of the shows anytime. 
ASI Dallas was also host to a large national event for American Solutions for Business, asi/120075, which co-located its winter show at the event.
"We have the highest level of attendance of our associates – about 400 – at ASI Dallas," said Wayne Martin, vice president of sales, American Solutions for Business. "The excitement level has been great. Our reps are enjoying the education, the vendor networking and the hospitality of the ASI staff. Getting a chance to learn what ASI has to offer and meeting more peers in the industry has been very beneficial. I'm sure the group will want to be back here next year."
Attendees say ASI responded to current market conditions with added benefits that helped them make every marketing dollar count.
"We're loving The ASI Show," said Mark Gammon, central region sales manager, The Vernon Company, asi/351700. "It's the perfect opportunity to bring all my Vernon reps together with great suppliers, especially the preferred vendors that we use. The variety of exhibitors is perfect for what we need."
Suppliers were pleased with the quality of attendees and with the traffic during the two exhibition days.
"We had more booth traffic than we ever expected," said Tom D. Levin, western sales manager of Hit Promotional Products, asi/61125. "It seems like people are motivated right now. Distributors aren't just walking by saying, 'Scan me, scan me.' Attendees are here to do business, are serious and came here with a purpose."
"You certainly wouldn't think there was any recession with this show," said Paula Shulman, vice president of sales, Prime Resources Corp., asi/79530. "It's a terrific show, it's been crowded, people are interested, and we're not hearing doom and gloom out there. They're buckling down, going out there and trying to find the business."
The strong attendance in Dallas and from ASI's first show of the year in Orlando is setting the pace for an optimistic year, and pre-registrations for the next ASI Show in New York in March continue to increase.
Distributors can register for The ASI Show in New York City, Chicago and the new ASI Holiday & Incentives Expo in Las Vegas at asishow.com. Exhibition space is available in New York, Chicago and Las Vegas, and suppliers may contact Karen DiTomasso, sales director, at kditomasso@asicentral.com or at 1-800-546-3300.
About ASI 
Advertising Specialty Institute is the largest media and marketing organization serving the advertising specialty industry, with a membership of over 26,000 distributor firms (sellers) and supplier firms (manufacturers) of advertising specialties. Supplier firms use ASI print and electronic resources to market products to over 22,000 ASI distributor firms. Distributor firms use ASI print and electronic resources, which contain nearly every product in the industry from more than 3,500 reputable suppliers, to locate supplier firms and to market services to buyers. ASI provides catalogs, information directories, newsletters, magazines, websites and databases, and offers e-commerce, marketing and selling tools. Visit asicentral.com.
About ASI Show
The ASI Show was created for ASI member distributors and suppliers and attracts more than 30,000 attendees annually. Offering a full education conference, networking opportunities and a manageable one-floor layout, The ASI Show provides a complete trade show experience. The ASI Show has experienced growing attendance since its inception in 1998, and hosts shows in five major cities (Orlando, Dallas, New York, Chicago and Las Vegas). In January 2006, The ASI Show launched the Advantages Roadshow, a traveling show visiting over 70 top cities throughout the country. In addition, the Stitches Roadshow brings embroidery professionals together with suppliers and is being conducted in six cities this year. Visit asishow.com.