ASI Employee's Family Honored by the Red Cross
TREVOSE, PA – April 12, 2007 - Advertising Specialty Institute®, the largest media and marketing organization serving the advertising specialty industry, announced today that Alex Maratea was honored with a Real Heroes award from The American Red Cross.  Alex is the daughter of ASI employee, Jim Maratea.
Real Heroes awards recognize individuals who have exhibited exceptional acts of heroism through selfless bravery in their local communities and are presented by The American Red Cross, Lower Bucks County Chapter.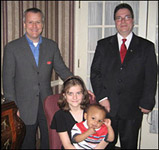 Left to right:  Tim Andrews, president of ASI, with Alex Maratea and nephew, Derrian, and Jim Maratea.
Maratea, eleven years old, was honored for saving the life of her nephew, Derrian.
The rescue occurred as Alex and her sister, Nikki, were purchasing tickets to board a local train.  Derrian, three weeks old at the time, was in his stroller and on the station's concrete platform with them.  
While they were making final arrangements at the cashier's window, a sudden gust of wind pushed Derrian's stroller down the platform and over its edge.  It landed on the tracks, four feet below, and in the path of an oncoming train. 
Alex leapt onto the train tracks, took Derrian from the overturned stroller and handed him safely to Nikki, who was standing above.
"I just jumped down and got him and luckily there were a few seconds to get onto the tracks to help," said Alex Maratea, honoree.  "The train was only a few blocks away and I knew I had to get my nephew to safety, so I acted as fast as I could."
It wasn't until after the event occurred that Alex and Nikki were notified by authorities that Alex had avoided the electrified third rail during her rescue, which no one knew was there.    
"I'm very proud of Alex and congratulations to the Maratea family," said Timothy M. Andrews, president of ASI.  "Alex's bravery, her ability to put the needs of others before her own, and her positive attitude serve as an inspiration for all of us."
"Like Alex, I believe that there are many hidden heroes living in our local communities who make an impact on our lives every day," Andrews further noted.  "I believe that we should pause to recognize them for their acts of kindness, volunteerism and admirable leadership."
To contact ASI, call 800-546-1350.   For more information about the Real Heroes awards, visit http://redcrosslbcc.org/Events/Heroes_07/Heroe07A.html . 
About ASI
Advertising Specialty Institute is the largest media and marketing organization serving the advertising specialty industry, with a membership of 24,000 distributor firms (sellers) and supplier firms (manufacturers) of advertising specialties.  Supplier firms use ASI print and electronic resources to market products to more than 20,000 ASI distributor firms.  Distributor firms use ASI print and electronic resources, which contain more than 750,000 ad specialties, to locate supplier firms and to market services to buyers.  ASI provides catalogs, informational directories, newsletters, magazines, websites and databases, and offers interactive e-commerce, marketing and selling tools.  Visit www.asicentral.com.